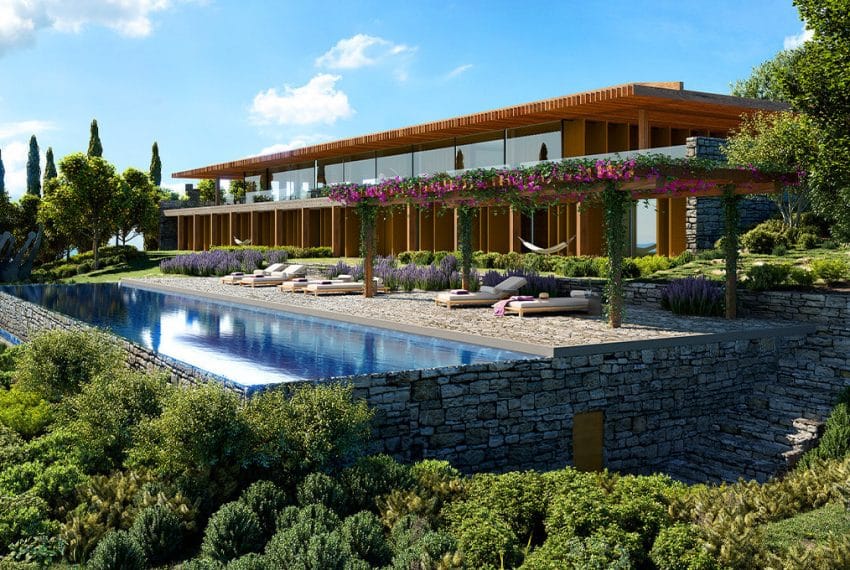 Introducing the Exceptional Homes Collection in Sotogrande
The Property Agent is extremely proud to showcase the most recent addition to its high-end homes on the western Costa del Sol: Introducing the Exceptional Homes Collection in Sotogrande. As their name indicates, these villas in La Reserva, Sotogrande take exclusive luxury living on the Costa del Sol to another level.
Not only do they boast an unrivalled location, but they also combine world-leading architecture, fantastic landscaping and exclusive living all within a 5-star lifestyle resort. Read on to find out just why The Exceptional Homes Collection in Sotogrande is so exceptional.
Unrivalled location
To be a truly exceptional home, you need a location like no other. Sotogrande, one of Europe's premier private residential communities in southern Spain, is the chosen destination for The Exceptional Homes Collection.
Specifically, La Reserva, the last stage of the four-part development of the 2,000-hectare site also consisting of Sotogrande Alto, Sotogrande Marina and Sotogrande Costa. La Reserva is 600 hectares of some of the best sea and mountain views in Southern Spain. As the homes in The Exceptional Homes Collection show, Sotogrande has saved the very best until last.
Sleek design
The Exceptional Homes Collection comprises five projects, each unique in design but all showcasing the work of many internationally recognized architects. Studios responsible for marque projects in London, Paris and Oslo have conceived these genuinely unique villas.
Each project is designed to complement its surroundings, the Mediterranean lifestyle and high-end living. The result is a celebration of contemporary design, some bold, others more muted, but all offering the chance to live in a truly exceptional home.
Exceptional homes
As well as the stunning and sleek design, The Exceptional Homes Collection is also about the homes themselves. Expect sizeable and spacious living areas maximizing the Mediterranean views and sunlight while bridging the outdoors with the interiors via spacious terraces.
Indoor and outdoor Swimming pools at the largest villas – come as standard, as do health spas and gyms. Luxurious Cinema rooms make watching the latest box office hit from the comfort of your own home a real treat. Wine cellars are also part and parcel of the layout.
When it comes to price, exceptional at Sotogrande starts at €9 million.
Astonishing landscaping
To guarantee that each of these stunning projects in The Exceptional Homes Collection comes together in true Andalucian harmony, renowned French landscape architect Jean Mus has designed the exterior spaces. Mus has taken Provence's sights and scents and carried them to Sotogrande, where his landscaping combines the best of southern France with the most refined luxury in La Reserva.
Mus has applied his expertise and skill to every detail, ensuring all the projects blend into one beautiful outdoor space. More elegant gardens line the upper levels while surf chic comes into its own by the Lagoon. All his work offers privacy, complementing the beautiful natural surroundings of La Reserva.
A 5-Star resort
The area enjoys not only an unrivalled location but offers outstanding high-quality facilities. La Reserva includes a Country Club, an 18-hole golf course (ranked as 9th best in the whole of Spain), tennis and paddle courts, a riding school and hiking and biking trails.
The real jewel in the crown is 'The Beach', the first inland beach and lagoon in Southern Spain. A top-class restaurant lines its shore, with fabulous lounge areas where relaxation is guaranteed. Watersports are available for those looking for a bit more excitement, including kayaking, windsurfing and paddleboarding.
A noteworthy address
Sotogrande, one of Europe's most prestigious private resorts, is home to five world-class golf courses, including the famous Valderrama Club, a Ryder Cup host. The resort also has one of Spain's best polo clubs, a renowned international school and a beautiful marina.
A favorite among Europe and Spain's elite, high-end living forms the cornerstone of this exclusive resort. Despite the high profile of those who call Sotogrande their home (including some Royalty), the watchwords are discretion and privacy.
The glitzy towns of Puerto Banús and Marbella might be just a short drive away, but Sotogrande could not be more different. This is a residential resort where class comes understated and refined living is to be savoured discreetly. And all within easy reach of Gibraltar and Malaga Airports.
The Exceptional Homes in this Collection
This prestigious portfolio of some of the most impressive homes in southern Europe comprises five individual property developments. Each is unparalleled, and each celebrates world-class architecture in a truly magnificent location.
All located within La Reserva, each development provides the opportunity to enjoy the most refined lifestyle Southern Spain can offer. Properties that make the absolute most of the natural surroundings offer a truly exceptional collection of homes.

The Seven – Sotogrande
Enjoying a fantastic location, The Seven is situated on a 12-hectare gated community at the heart of La Reserva. Each of the seven plots has over 10,000 square metres and is home to an exceptional Villa designed by an internationally acclaimed architect.
Each Villa has at least 1,200 square metres of living space, and all maximise the outdoor living areas with ample terraces and stunning landscaped gardens. Beautiful panoramic views are yours from all the living spaces and bedrooms. Each home comes equipped with indoor and outdoor pools, a gym and spa, a cinema, parking for several cars and separate guest quarters.
The Seven is our marque project in this collection and has the largest plots and Villas for sale in La Reserva.
Find out more about The Seven at La Reserva Sotogrande.

El Mirador – Sotogrande
Sitting on an elevated location, the luxury property El Mirador boasts some of the best views in La Reserva. These six uber-modern villas enjoy sweeping vistas of both La Reserva golf course and the Mediterranean Sea below.
Renowned for their contemporary flair, ARK Architects based in Sotogrande designed each of these magnificent homes. Plot sizes start at 5,000 square metres, and each home comes with spacious living spaces, ample terraces and beautifully landscaped gardens. Interiors carry the Pedro Peña signature, one of the best interior designers in Spain.

The 15 – Sotogrande
As the name suggests, this community of Villas at La Reserva comprises of just 15 exceptional homes. One of the three residential complexes at La Reserva, The 15 homes hug the hillside, providing a vantage point that makes the absolute most of the views on all sides.
Each villa sits on a plot of between 4,500 and 5,000 square metres and has a sleek modern design that complements the surrounding landscape. Outdoor and indoor living spaces blend seamlessly into one another, with generous terraces and private swimming pools.
Read more about The 15 at La Reserva Sotogrande.

Lagoon Villas – Sotogrande
These sleek modern homes overlook La Reserva's signature beach club and lagoon. There are 41 plots, each between 1,300 and 3,700 square metres. Four different architectural studios have been employed to bring their ideas, style and expertise to these remarkable homes.
Contemporary living at its best with sizeable open-plan spaces, large terraces and infinity pools come standard at each villa.
Find out more about Lagoon Villas at La Reserva Sotogrande.
Golf Villas – Sotogrande
The final development in our collection of exceptional homes consists of six villas located on the frontline of La Reserva golf course. These Villas overlook the 3rd, 4th and 18th holes with up-close views of the immaculate fairways and beyond to the Mediterranean.
Plot sizes range from 2,700 to 3,800 square metres, and the homes come in modern designs that seamlessly blend with the surrounding landscape of La Reserva. The build orientation takes full advantage of the villas' south-facing location, and as a result, the living spaces are flooded with sunlight.
Discover more about the Golf Villas at La Reserva Sotogrande.
An exceptional home awaits
This stunning new collection at The Property Agent showcases the very best in high end living in Southern Spain. I take great pleasure in offering my clients the chance to experience a truly exceptional home. Get in touch today and allow me to find you the home that moves you.