La Alcaidesa Property Market Insights & Area Guide
La Alcaidesa is one of Andalusia's newest gated communities having been built in the 1990s.
It is a large urbanization just a short drive away from Gibraltar, making it a popular spot for people who work there, and offers stunning views of not only the Rock but also the Mediterranean sea and across the straight to Morocco.
The Location – Why Alcaidesa?
La Alcaidesa is situated on Spain's Costa Del Sol, which enjoys an all year round Mediterranean climate and 320 days of sun annually. The urbanisation forms part of the autonomous region of Andalusia and is in the province of Cadiz.
Situated halfway between Sotogrande and La Linea de la Concepcion, La Alcaidesa has two main gated entrances and has been designed to closely resemble a town thanks to a careful balance of commercial units, hotels, apartments, townhouses and villas.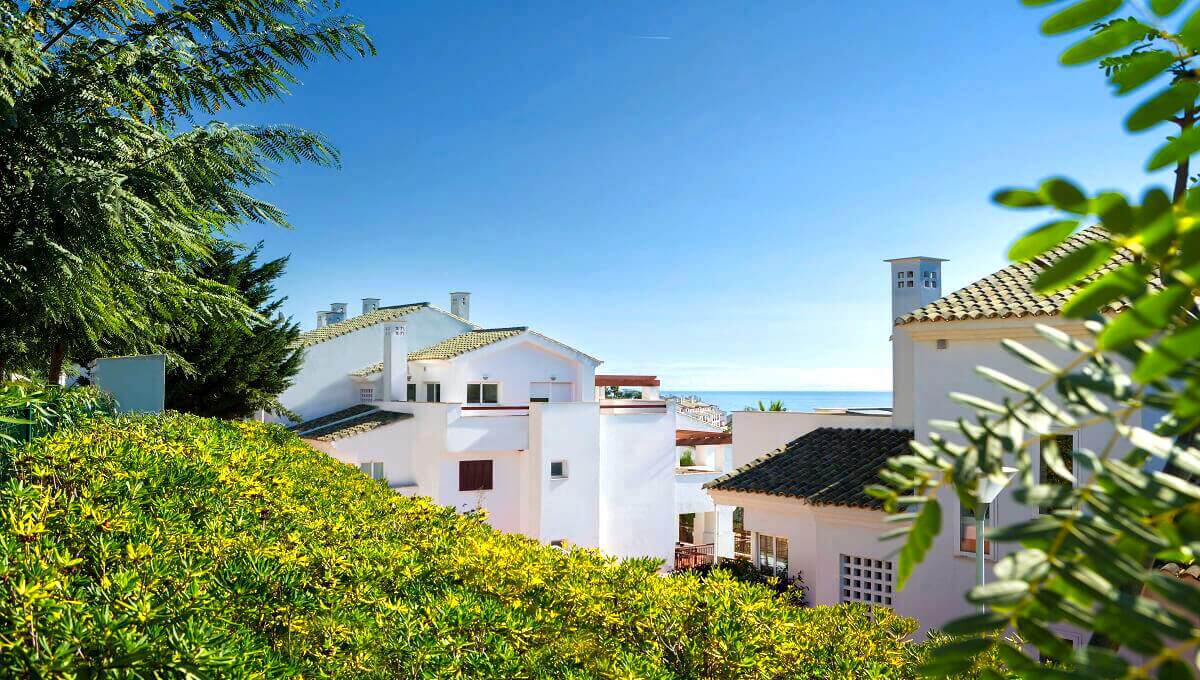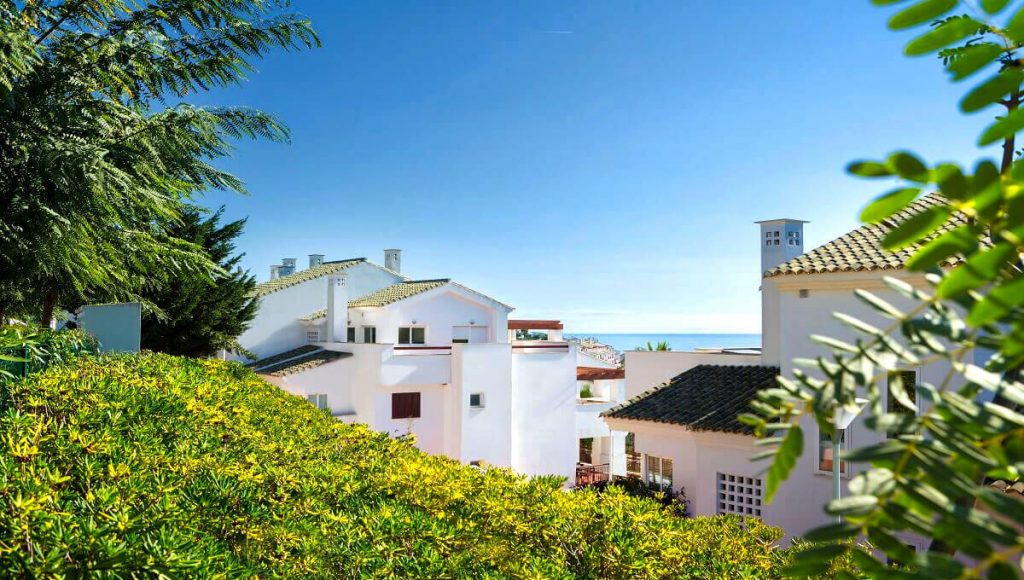 Due to its proximity to Gibraltar, the area has become a melting pot of nationalities with many ex-pats working on the Rock and living across the border in La Alcaidesa. There is also a regular bus service that runs between Gibraltar and La Alcaidesa, and the resort combines a mix of full-time residents and golf tourism.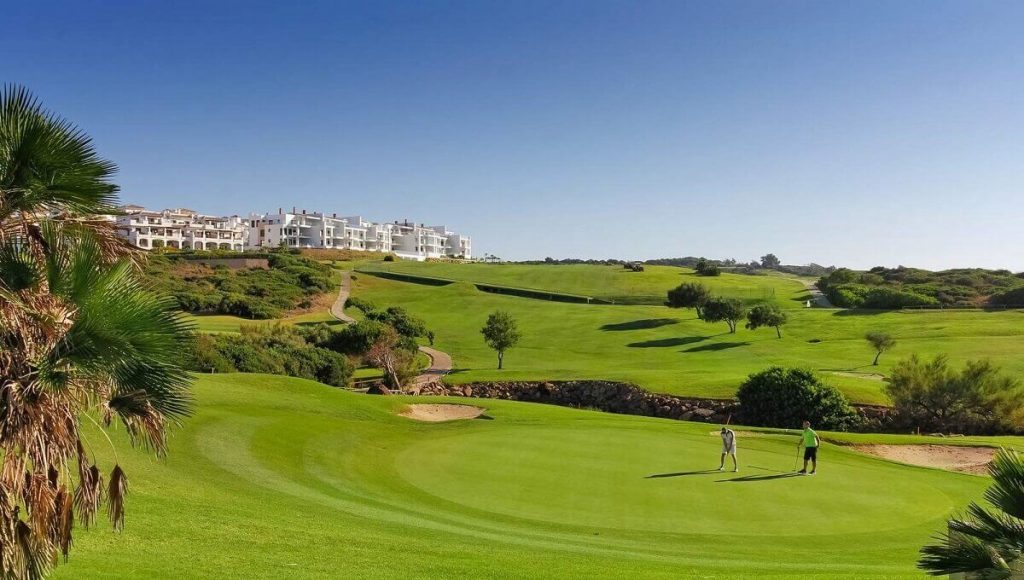 La Alcaidesa is well connected by road and motorway, with the A7 Autovia running parallel to the entrance meaning the likes of Algeciras (20 minutes), Estepona (25 minutes), Marbella (45 minutes), are Malaga (90 minutes) are all within easy reach by car.
Despite its proximity to many major towns and cities, La Alcaidesa sits on a very rural landscape, with stunning sloping hills, beautiful long beaches, and lush green golf fairways surrounding the community. The main entrance to the residential-area is via a tree-lined avenue with amazing panoramic views of the Mediterranean sea. Gibraltar Airport is twenty-minutes-drive, and about an hour further inland lies Airport of Jerez.
Property for Sale in Alcaidesa
La Alcaidesa has an excellent rental market for workers in Gibraltar, especially considering the high rents across the border on the Rock. The area is more upmarket than la Linea and offers a higher standard of living with excellent quality properties combined with better facilities.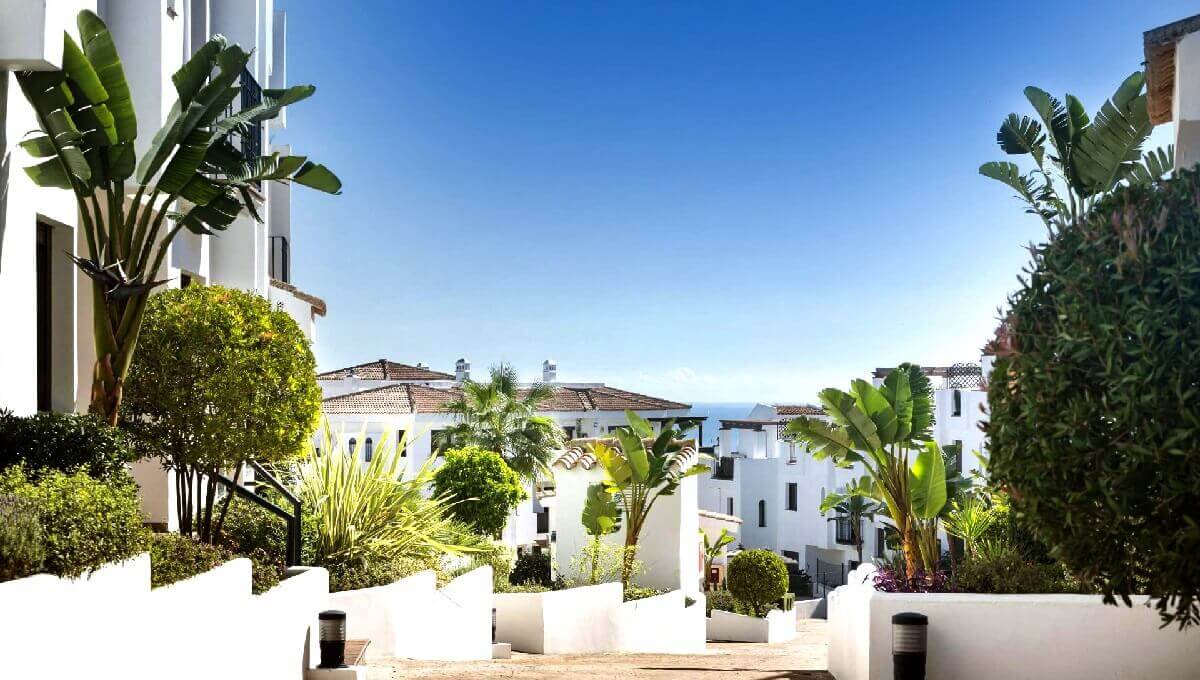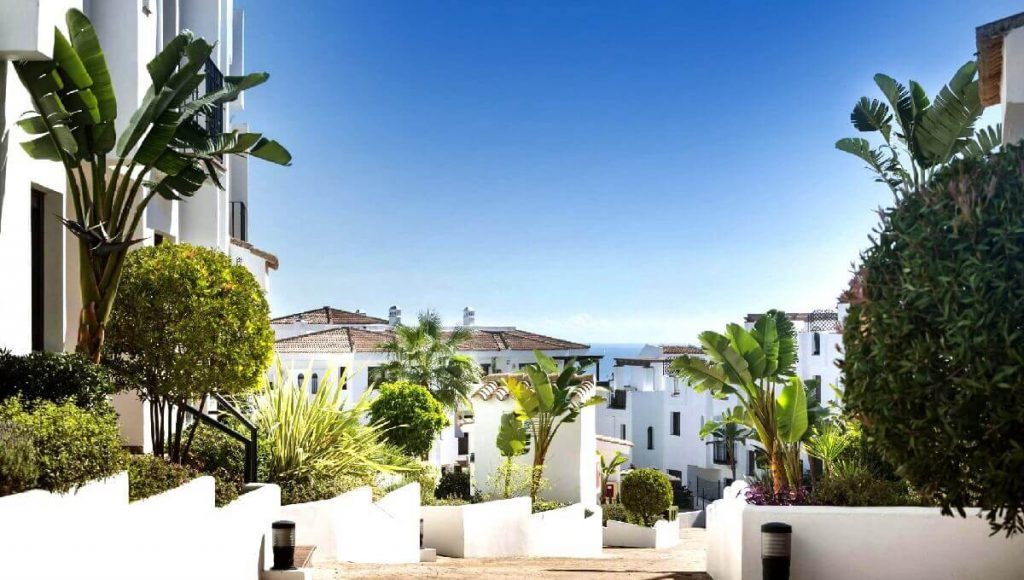 There's also a healthy market for golf holidays with golfers coming especially in winter months when northern European courses are closed. Overall, the area is well position as a cheaper alternative to Sotogrande with a much more upmarket property profile to the neighbouring town of La Linea.
Luxury Villas in Alcaidesa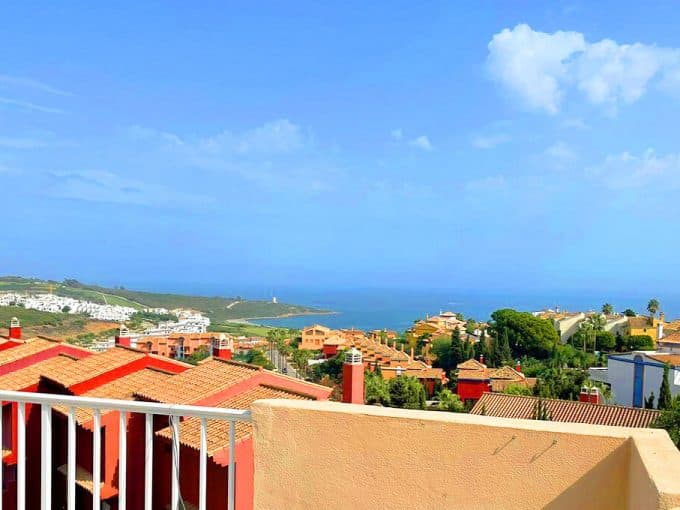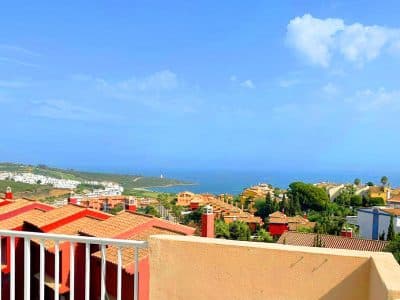 Fully renovated semi-detached house for sale with breathtaking sea views…
Things to Do in Alcaidesa: Golf & Natural Beauty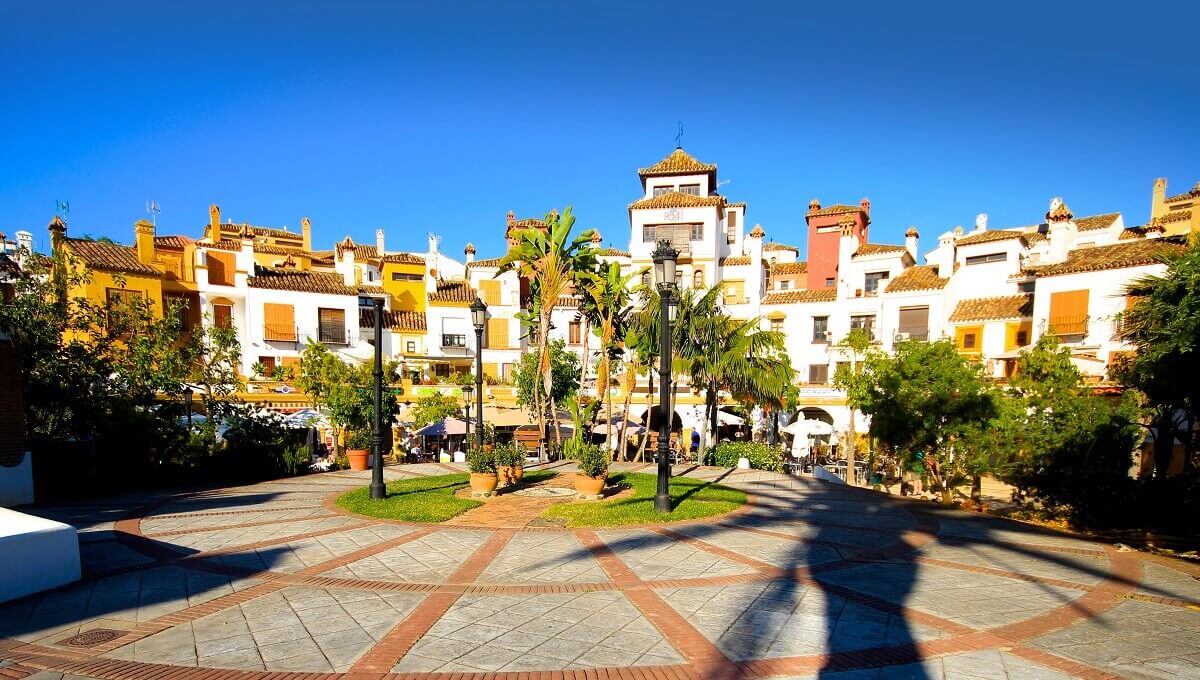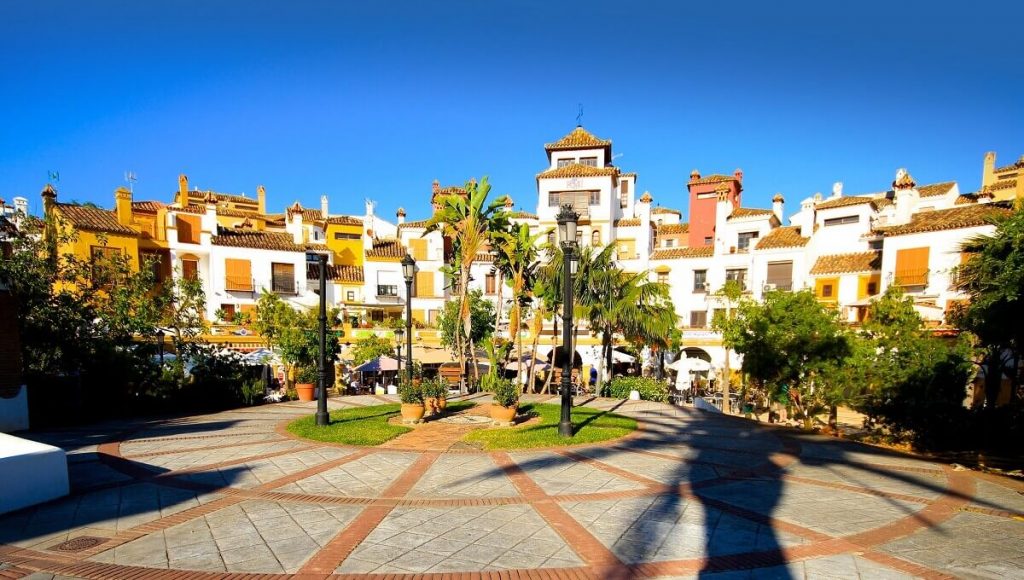 While La Alcaidesa offers a tranquil sanctuary for its residents, there's still no shortage of things to do and enjoy. Towards the south end of the resort, there is a small picturesque square with a café, a pharmacy, a new gym, several bars and a restaurant.
Alcaidesa Links Golf Resort
Alcaidesa Golf is known as a golf lover's paradise in the Mediterranean. Alcaidesa owns and operates two golf courses, a plot of land and a clubhouse in the municipalities of La Línea de la Concepción and San Roque, which are in the hands of Millenium Hotels. Much of the property in the area is surrounded by the Alcaidesa Links Golf Resort, which is comprised of two outstanding 18-hole, par-72 courses: Alcaidesa Links and Alcaidesa Heathland.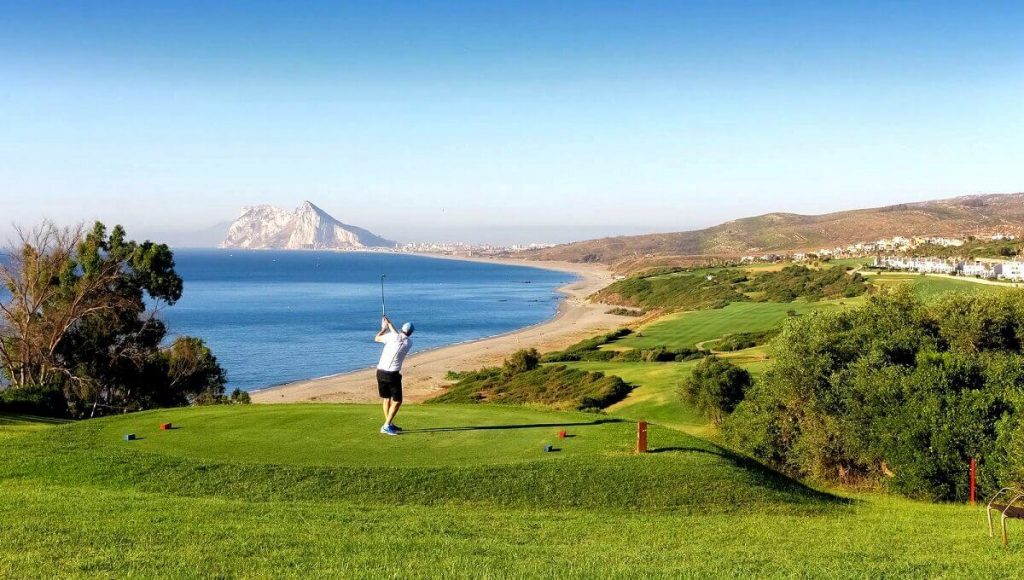 Both courses offer unbelievable views of the Mediterranean and the Rock of Gibraltar. Alcaidesa Links course also has the distinction of being the only links course in southern Europe and is hugely popular among beginners. The clubhouse that serves both has a nice restaurant and, in the entrance circle, facing the doors, an infinity pool that looks out over the sea.
The Alcaidesa area is undergoing an impressive development and investment cycle that aims to position the location as a high-end golfing destination. A new five-star luxury hotel is being built called "La Hacienda", along with a new project of 50+ luxury villas and a top-level sports complex with sea views, overlooking the Gibraltar Rock and Africa.
Guadalquitón Nature Reserve
Running along the eastern perimeter of La Alcaidesa lies the Guadalquitón Nature Reserve. The area consists of a protected stretch of beach, dunes, wetlands and a cork oak forest. The reserve is also home to many protected animal species and a wide variety of plant life.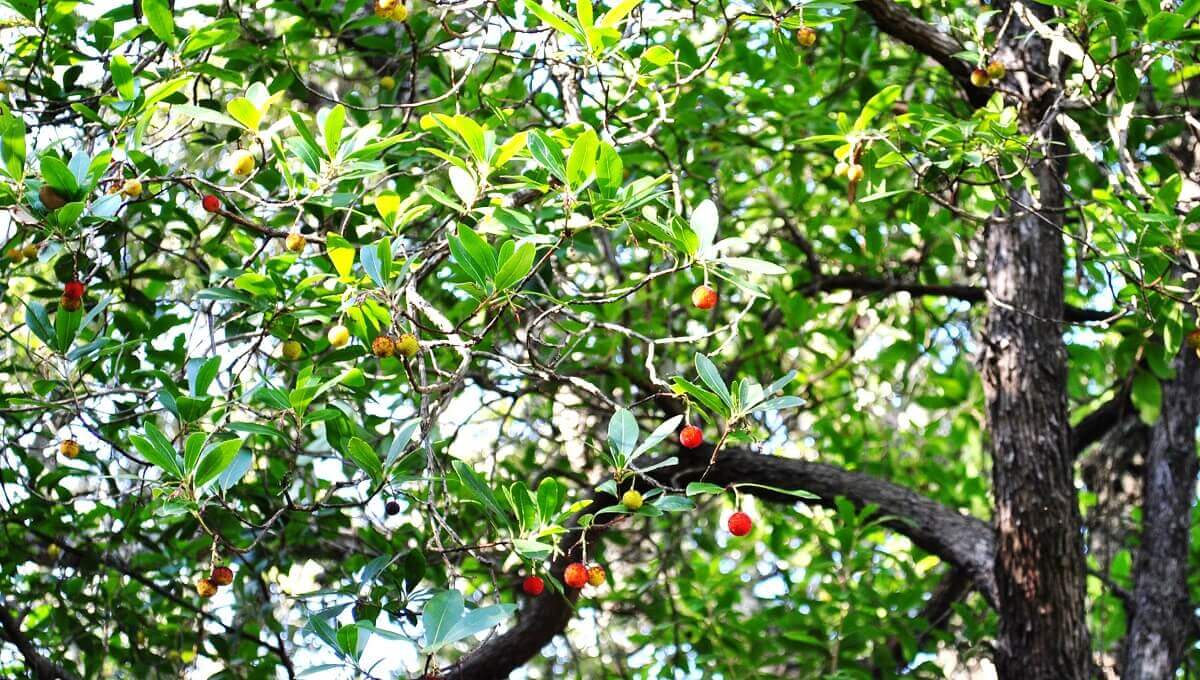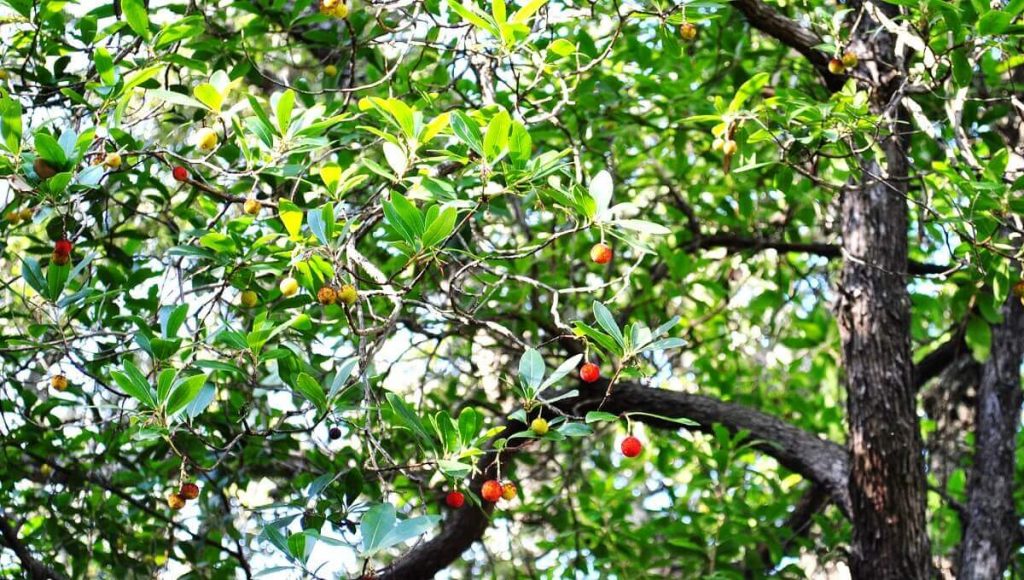 This beautiful park creates a unique ecosystem that lines the residential area and gives La Alcaidesa a lush green border. Because the resort has a low urban density, the reserve strikes a lovely balance with the developments dotted throughout the community.
Bars & Restaurants in Alcaidesa
With residents hailing from the four corners of Europe, there's a real international atmosphere creating a warm, open and friendly vibe. To experience this first hand, check out the central 'plaza' at the southern end of the urbanization which has a cluster of laid back bars, small cafes and restaurants that fill up at the weekends. Expect a mix of different languages and plenty of friendly faces. If you're looking for something a bit more upmarket, then there are several good restaurants in the area:

1. La Vista Beach
Situated on the beach, serving delicious local cuisine and inspired by a Michelin Star Chef, this is one of the top restaurants in the area. The outside terrace is chic and trendy, with breath-taking views of Gibraltar and Morocco.
2. La Finca Thai Fusion
Located next to the campsite near the entrance to La Alcaidesa, this is fine dining with a twist. The restaurant is little off the beaten track in a quirky and laid back Finca serving Thai and International cuisine. The ambience is warm and cosy with an eclectic flair.

3. DBlanco Beach Bar
Located right on the beachfront overlooking the sea, Dblanco is open all year round. It has a large outdoor terrace, and the décor is shabby chic. Enjoy Mediterranean gastronomy with a top menu that includes fresh fish and local meats.
Of course, there's also plenty more fantastic options to wine and dine in the vicinity of Alcaidesa, with the likes of San Roque, La Linea, La Duquesa, Sotogrande and Estepona all easily reachable and offering a tempting range of culinary delights and nightlife.
Penthouses & Apartments for Sale in Alcaidesa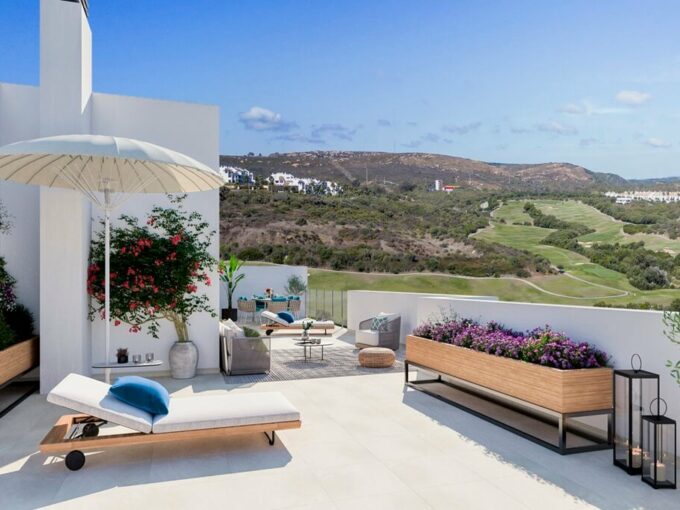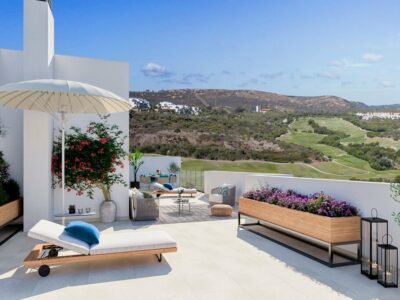 Discover Residencial Altara, a boutique development with apartments and penthouses…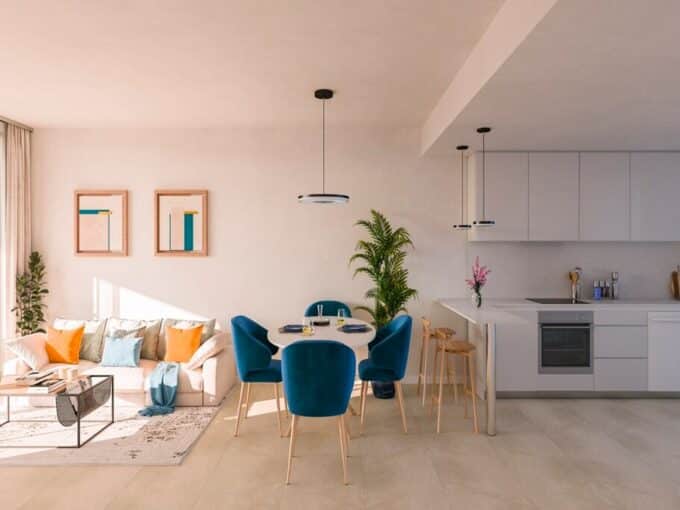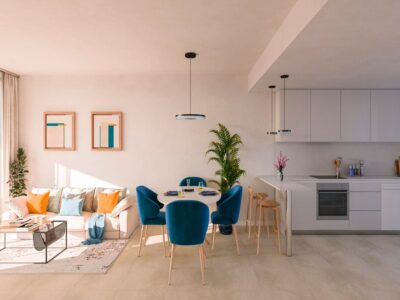 Altara: an exquisite development featuring contemporary apartments situated along the…
Beaches of La Alcaidesa
Playa de La Alcaidesa is impressive. It forms part of a long beach that runs endlessly for almost 10km towards La Linea de la Concepcion and space is certainly in no short supply – even in the busiest summer months.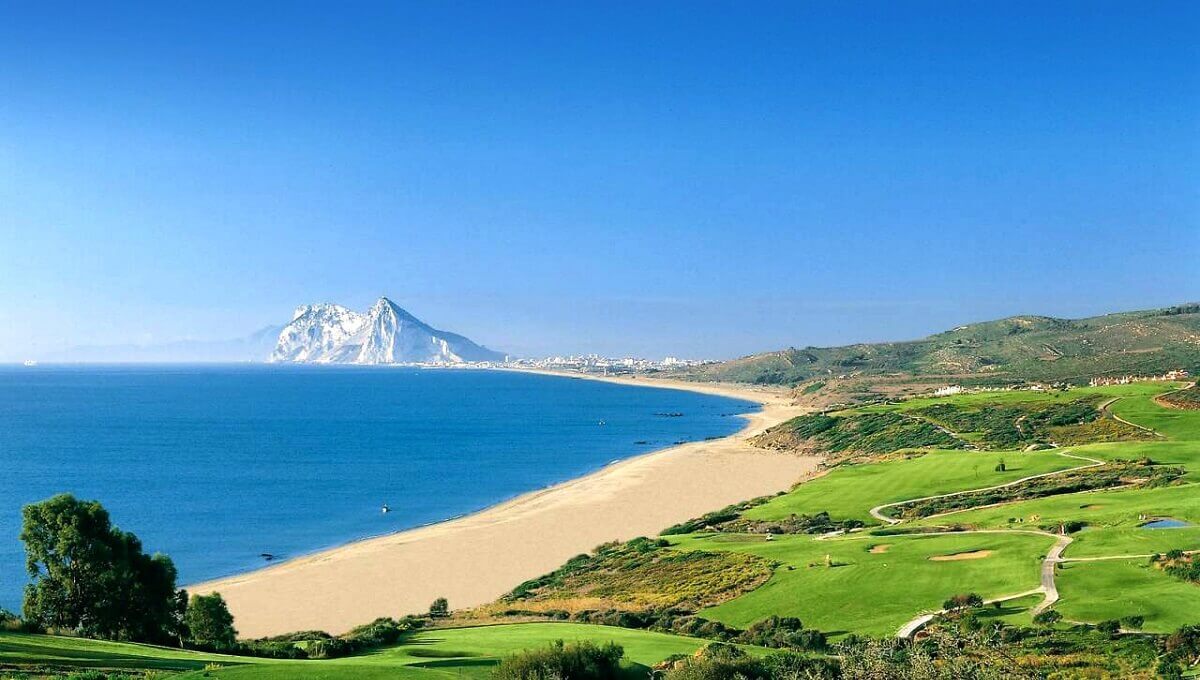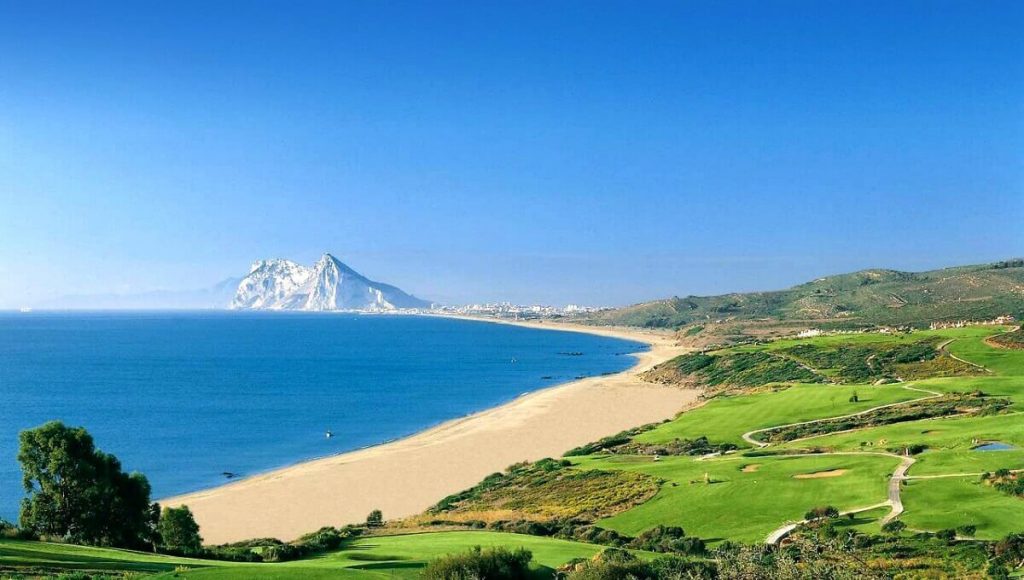 La Alcaidesa's beach is also family-friendly, with volleyball courts and other activities to enjoy. It is an ideal beach for long walks, as it gives you beautiful views of the Rock of Gibraltar and Morocco.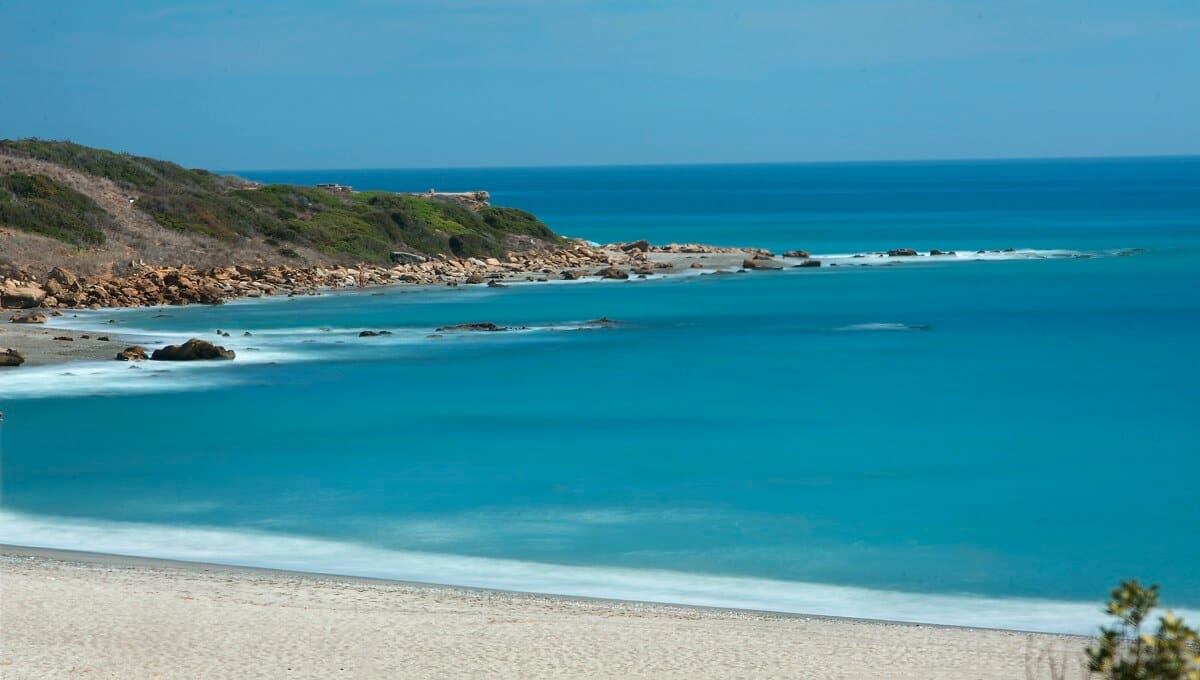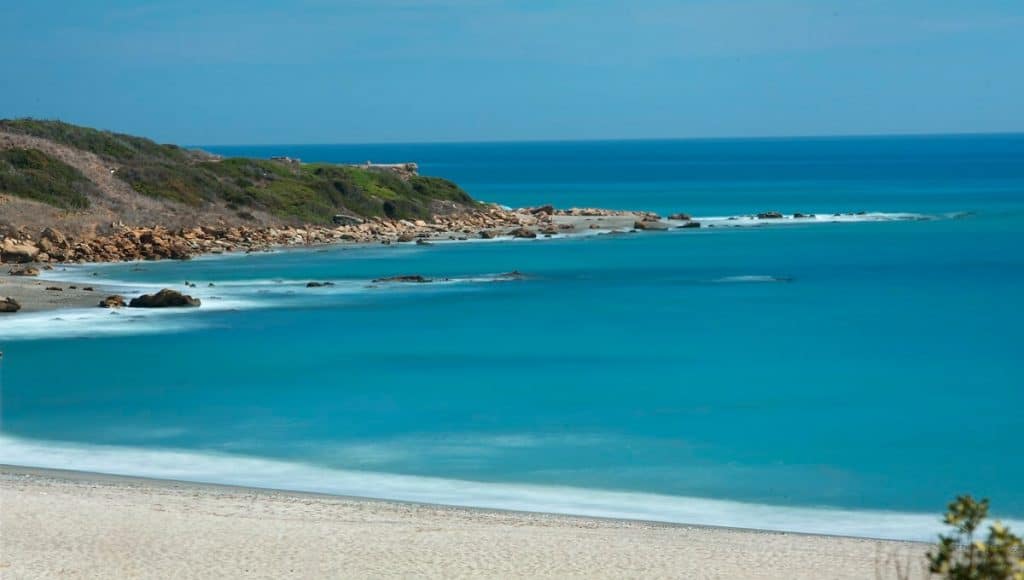 With its largely natural, unspoiled surroundings the long sandy beach of Playa de La Alcaidesa is a postcard-perfect beach. While the beaches of Estepona and Marbella are bustling touristy urban beaches, here you'll find a laid back alternative where you can relax in a wonderfully peaceful setting. The sea is clean, crisp and fresh and is a mix of Mediterranean and Atlantic waters that join together at the mouth of the Straight of Gibraltar.
Alcaidesa History & Information
Construction started on La Alcaidesa in the 1990s following joint ventures between a British & Spanish firm and several local developers. The project comprised of a vast swathe of luxury villas, apartments complimented by a couple of top quality hotels.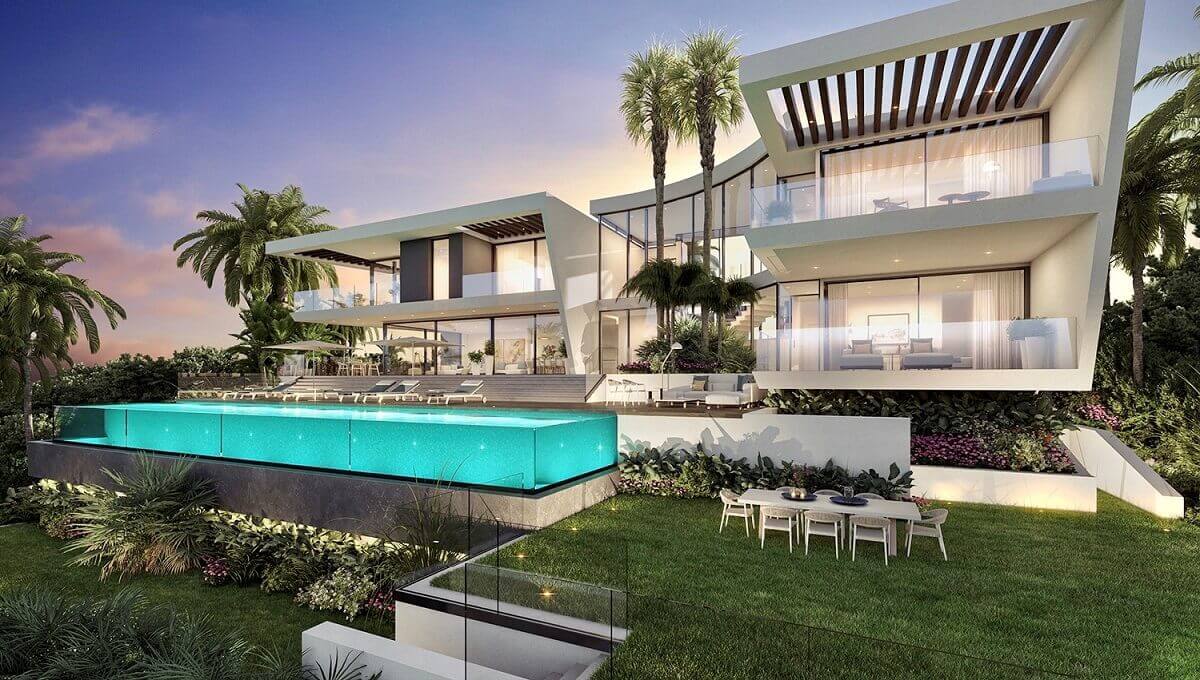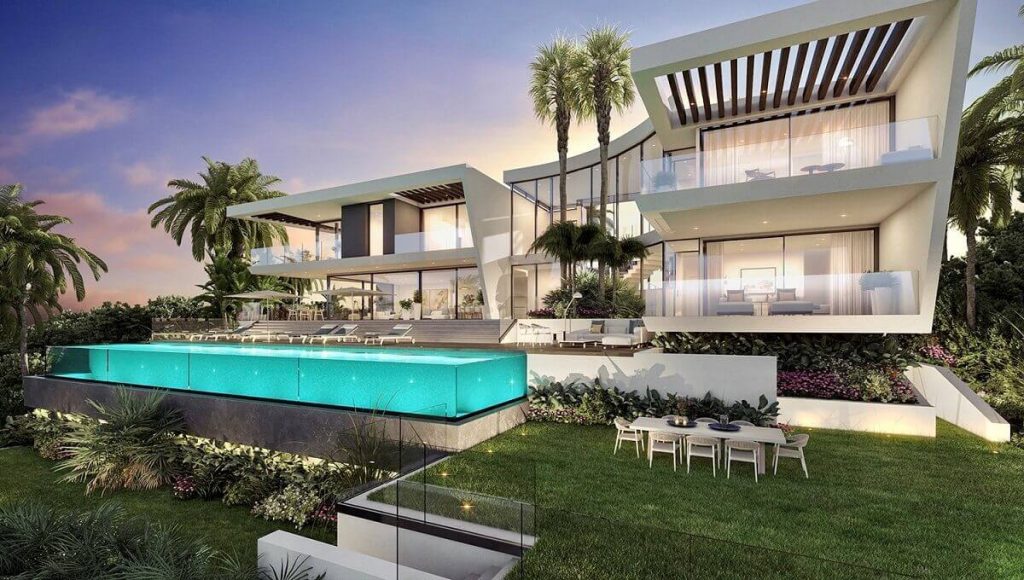 Construction continues today with a new 5-star hotel in the pipeline and several more high-end property developments in Alcaidesa.
La Alcaidesa FAQs
Below we've answered some of the most frequently asked questions about the La Alcaidesa area. If you have any other questions, please don't hesitate to get in touch.
Where in Spain is La Alcaidesa?
La Alcaidesa is situated on southern Spain's Costa Del Sol, which forms of part of the Cadiz province in the autonomous region on Andalusia.
How Far from Marbella is La Alcaidesa?
Marbella town centre is approximately a 45-minute drive from La Alcaidesa, while the popular resort of Puerto Banus can be reached in under 40 minutes. Taxi drivers are happy to make the journey for a reasonable fee.
What are the Nearest Airports to La Alcaidesa?
La Alcaidesa has Gibraltar Airport on its doorstep, being just a 20-minute drive away. Gibraltar Airport offers daily flights to the UK. For a more extensive range of international flights, Malaga Airport is about a 70-minute drive.
Is La Alcaidesa a Good Place to Live?
La Alcaidesa is most definitely a great place to live. It forms part of a safe gated community that offers an excellent selection of bars, restaurants and basic amenities, while also being close to some of Spain's most popular areas, including the likes of Sotogrande, Marbella and Estepona.
The area enjoys 320 days of sun per year and has an excellent beach for all to enjoy. For lovers of the outdoors, relaxation and golf, La Alcaidesa could well be your dream destination.
New & Off-Plan Property Sales in La Alcaidesa
If you'd like to talk about real estate and property for sale in Alcaidesa, please don't hesitate to get in touch. Whether you're looking for an apartment, townhouse or villa, off-plan or new developments – or if you'd like to learn about La Alcaidesa property prices – we'd love to speak to you about it.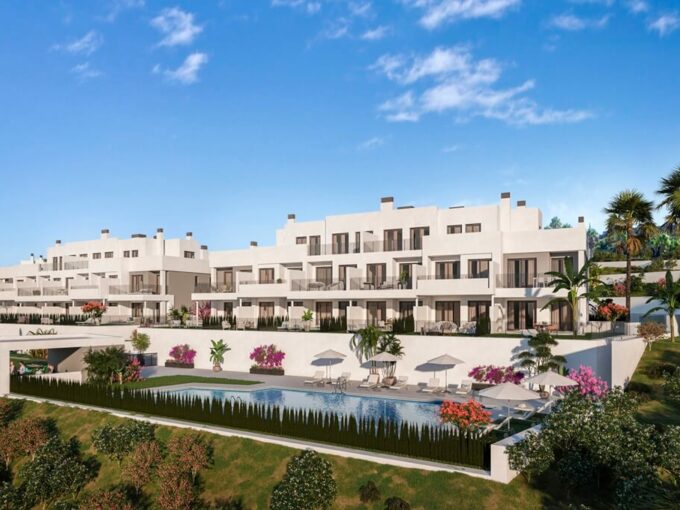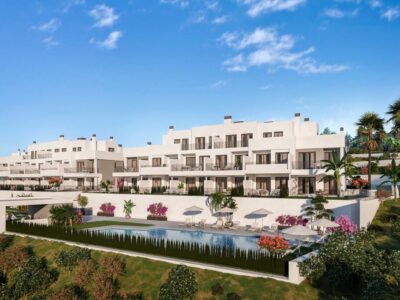 Discover Altara Alcaidesa - a stunning residential complex with 55…