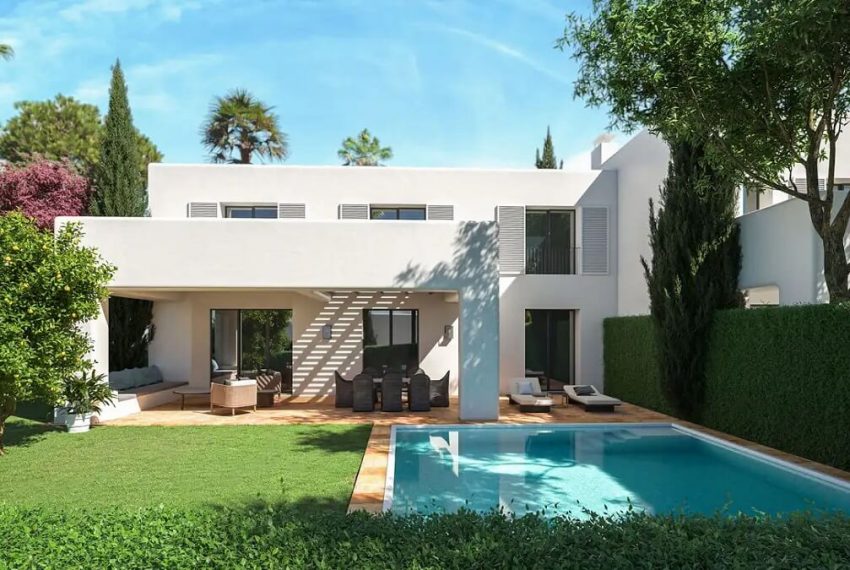 Introducing Los Albares de Sotogrande
Welcome to Los Albares de Sotogrande, an elegant residential complex comprising 49 single-family homes with 3 and 4 bedrooms with a private garden and pool. Designed by the renowned Torras & Sierra architect studio, this traditional-style development is nestled within the La Reserva de Sotogrande area on the Costa del Sol.

The Residences
The Residences have been thoughtfully designed, catering to different needs and preferences. Each house opens onto its private garden with native flora and a swimming pool.
The design of these residences meets the highest standards of comfort and quality. From the climate control and underfloor heating to the fully furnished and equipped kitchens, every detail reflects a commitment to top-tier living. The carefully selected finishes add a touch of elegance, keeping these homes in line with the latest trends. There are three types to choose from:
Courtyard Townhouses with three bedrooms
There are 19 semi-detached Townhouses that create the "village area" of the development. Boasting contemporary architecture with flat roofs, these houses are centred around a private patio featuring a private garden, a swimming pool, and a pergola area. With three bedrooms, three bathrooms, and a small basement for laundry, the Townhouses provide a comfortable and stylish living experience.
Semi-detached Villas with four bedrooms
The semi-detached houses (24 in total) offer a timeless design, blending harmoniously with the different gardens and platforms, adapting gracefully to the land's topography. Each home boasts an independent garden, swimming pool, and a spacious pergola, extending the living space outdoors to enjoy Sotogrande's pleasant climate fully. Most of these houses offer plot areas exceeding 300 m2.
Independent villas with four bedrooms
The six independent Villas, designed in the architectural style of Garden Houses, occupy larger private plots, some exceeding 1000 m2, and enjoy panoramic views of the La Cañada Golf Club. With four bedrooms, four bathrooms, and a guest toilet, these Villas epitomise luxury living amidst nature's tranquillity.
Additionally, there are paddle courts within the community, and the paths are beautifully landscaped with wide driveways.
The Architects
Torras & Sierra, known for its values in design and sustainability, has been specially selected to create this exceptional project. The result is a collection of 49 houses and villas that exude timeless elegance, inspired by traditional Andalusian whites, featuring clean lines and the latest advancements in sustainable design.

Let's go green!
This exclusive development, certified under the BREEAM® sustainable construction standards, provides a tranquil and sustainable living space in Sotogrande. ACCIONA has meticulously crafted each house and villa to harmonise with the surroundings, ensuring ample natural light, tranquillity, and comfort. The interiors feature spacious and cosy rooms, with attention to detail in the interior design, complemented by traditional materials and impeccable finishes. The properties are equipped with energy-efficient solutions, such as solar-powered underfloor heating and aerothermal energy systems.

Where is Los Albares de Sotogrande?
Los Albares de Sotogrande enjoys a privileged location, seamlessly integrated into the serene landscape of Sotogrande. This unique residential complex is at the foot of the La Cañada Golf Club, surrounded by protected spaces that exude tranquillity and breathtaking views.
Within a short drive, you'll find prestigious and picturesque courses like the renowned Real Club Valderrama, a perennial top-ranked European course and host to the Ryder Cup, and the La Reserva Golf Club, known for hosting the PGA tournament NH Collection Open. With six impressive 18-hole courses, you'll have ample opportunities to indulge in your passion for golf.
On the other hand, Sotogrande has some 5-star amenities, including chic beach clubs, polo fields and an inland beach club. Sotogrande Marina, a hub for luxury yachts and boats, shops, boutiques, and restaurants, is only 5 minutes by car.
With Marbella, Puerto Banus, and Estepona, all within a 30-minute drive, and  Malaga and Gibraltar International airports at easy reach, Sotogrande stands out as an ideal destination for those pursuing a secure, private, luxurious and glamorous living.
Contact us to learn more about Los Albares de Sotogrande; we know we will be able to find the home that moves you.