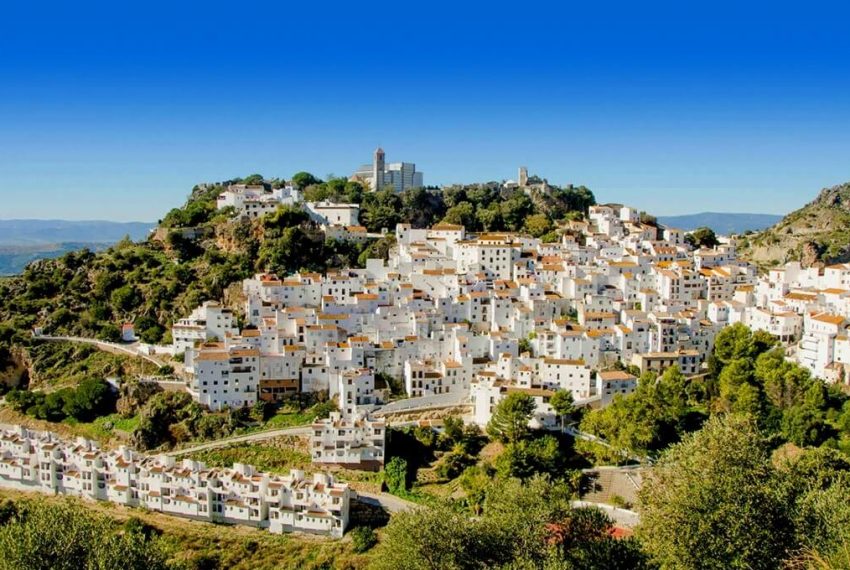 Seven Quiet Costa del Sol Towns to Start a New Life
Lockdown taught us to appreciate peace and quiet truly. It also had many of us hankering after an outdoor space to call our own. But the tranquillity isn't easy to find on the Malaga coastline, and unless you buy a villa, a private garden is an almost an unheard-of luxury. Step a short distance inland, however, and your home could come with peace and quiet plus your own outdoors. Read our list of seven tranquil Costa del Sol towns to start a new life.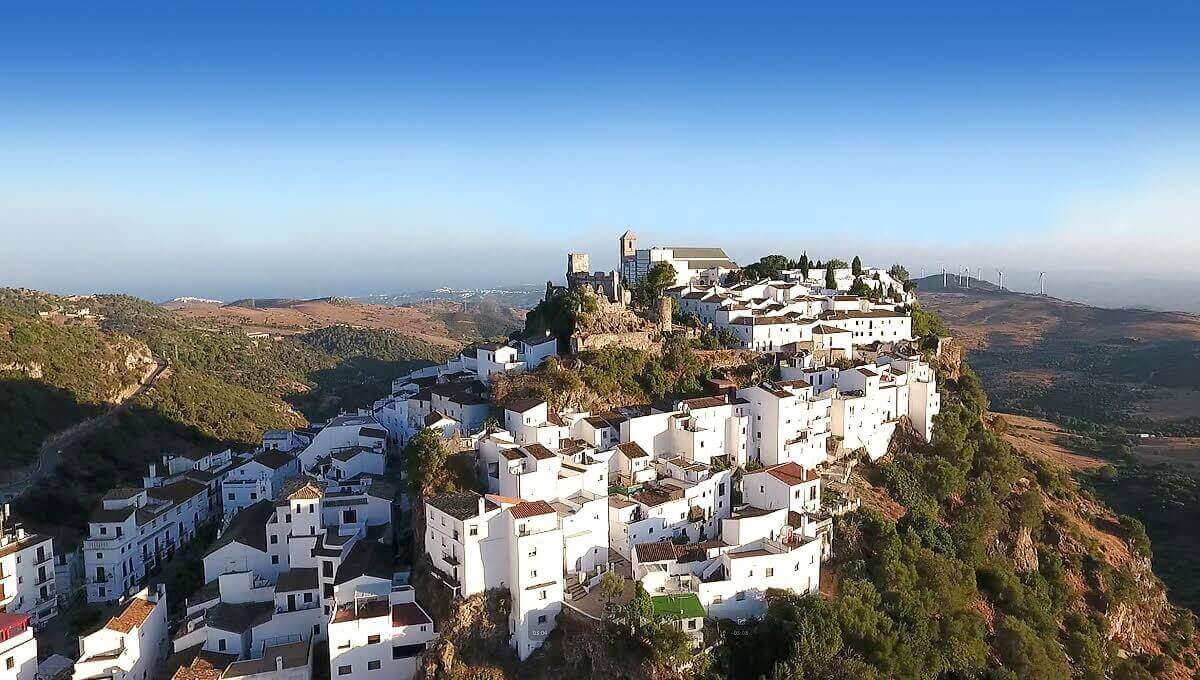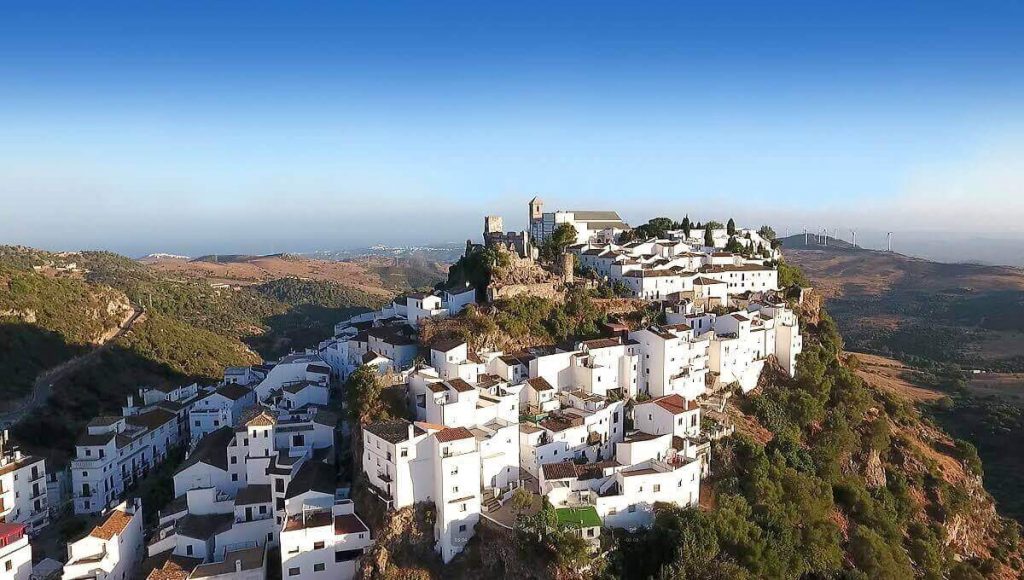 Casares – Sugar cubes down the mountain
One of the most spectacular white villages in Malaga, Casares is perched on top of a rocky outcrop and cascades down a hillside. A 12th-century Moorish castle sits at the top presiding over pristine streets lined with white cubic houses and quaint squares.
Fabulous views come standard – from the Mediterranean in the south with Morocco on the horizon to the north with the Sierra Crestalina mountains. This village has a good choice of traditional bars and restaurants plus a few little shops. Life moves in the slow lane (especially as you walk uphill) but Estepona is just 20 minutes away if you want a bit of action.
Population: 6,515
Foreign population: 2,018
Distance from Malaga Airport: 96km

Gaucin – Art in white
Further north and even higher than Casares is Gaucín, another stunning vision in white sitting astride a rocky ridge. Commanding vistas are also a given – down the River Genal valley to the Mediterranean, across the cork oak forests to the Sierra de Grazalema and through the almond and olive groves.
A Moorish castle crowns the hilltop here too over a labyrinth of pretty streets and sparkling-white façades. There's a sizeable artist community who open their studios every year for the Art Gaucín festival. The food is good and on the menu is traditional fare as well as more gourmet offerings. And for home cooking, the local shops sell excellent produce – the Payoyo goat's cheese is incredibly tasty.
Population: 1,576
Foreign population: 301
Distance from Malaga Airport: 120km

Ronda – pretty as a picture
As one of Andalusia's signature white towns, Ronda needs no introduction. The Old Town clinging to the rocks over the vertiginous Tajo gorge is one of the most famous views in Spain. Down below, the vast river plain with cornfields and vineyards backed by endless lofty peaks stretches long into the distance.
In the town itself, feast your eyes too on fine mansions and ancient chapels as well as one of Spain's oldest bullrings. Excellent local fare makes for some of the finest dining on the Costa del Sol accompanied by Ronda wine in a surprising variety. The town ranks as one of the most visited spots in Andalusia so you won't be alone. But come nightfall, the town returns to the domain of its inhabitants and life ambles quietly along again.
Population: 33,877
Foreign population: 1,990
Distance from Malaga Airport: 101km

Benahavis – pretty and tasty
The glitz and glamour of Puerto Banús might be just a short drive away, but in Benahavís you could be in another world. Life almost stands still in this immaculate white village, famed as the Costa del Sol's capital of gastronomy.
As well as fine food, the village offers snapshots of typical Andalusian architecture and some fantastic mountain and river walks. Canyoning down the waters adds some spice to daily life while more sedate leisure options are on your doorstep at some of the Costa del Sol's most prestigious golf courses.
Matching the splendour of the natural surroundings are luxury developments with some of the most expensive property on the Costa del Sol. Benahavís is one of the wealthiest municipalities in Spain and the quiet life here comes pretty but not cheap.
Population: 8,085
Foreign population: 5,173
Distance from Malaga Airport: 71km

Monda – a gateway to nature at its best
To the north of Marbella (a 20-minute drive away), Monda sits at the gateway to the Sierra de las Nieves Natural Park (soon to be Spain's 16th national park). The sleepy town itself includes an imposing castle, tidy squares, a working olive oil mill and row upon row of white houses boasting wrought-iron grilles and vibrant geraniums and bougainvillaeas.
A smattering of bars and restaurants add to the traditional feel to Monda while the Marbella Design Academy, celebrating its silver anniversary in 2020, brings a touch of creative, cosmopolitan flare. On the doorstep, Sierra de las Nieves, a natural treasure trove and home to some of the best walking and mountain biking routes on the Costa del Sol.
 Population: 2,594
Foreign population: 574
Distance from Malaga Airport: 47km

Mijas Pueblo – picture perfect
Mijas officially divides into three: Mijas Costa, Las Lagunas and Mijas Pueblo, but it's this last one you should look at for peace and quiet on the Costa del Sol. Perched midway up the high Sierra de Mijas, the small town has stunning views over the Costa del Sol coastline. Famous for its donkey taxis (now animal-friendly), cobbled white streets, Picasso ceramics at the CAC Mijas art museum and warm welcome, Mijas draws tourists in droves.
But stray slightly off the beaten trail, and life slows right down. And most streets and alleyways look the same as they ever did. Dine on tapas with the locals at tiny bars or join the (slight) bustle at the local restaurants. And then be sure to take part in the year-round calendar of festivals, traditional and modern, but all celebrating the Andalusian joie de vivre.
Population: 55,304 (Mijas village 5,528)
Foreign population: 31,646
Distance from Malaga Airport: 28km

Frigiliana – a vision in white
Part of the Axarquía region in the mountains to the east of Malaga city, Frigiliana ranks among the most beautiful of all Andalusian white towns. Just a short drive from the popular resort of Nerja, Frigiliana has commanding views of the Mediterranean and imposing mountains. This is the land of muscatel grapes for raisins and dessert wine and sugar cane for molasses.
But as well as sweet, Frigiliana is also beautiful. Pristine street after pristine street wind their way up the mountainside dotted with tiny alleyways, ancient fountains and imposing arches. White dominates of course punctuated by a riot of flowers and Moorish mosaics while the scent of jasmine lingers in the air. You won't be alone in the visual feast – Frigiliana attracts plenty of tourists – but choose the spot for your home well, and it'll be just you, the views and tranquillity. Who'd have said this is the Coast del Sol?
Population: 3,009
Foreign population: 938
Distance from Malaga Airport: 71km
Are you looking for property for sale on the Costa del Sol? Contact me here.