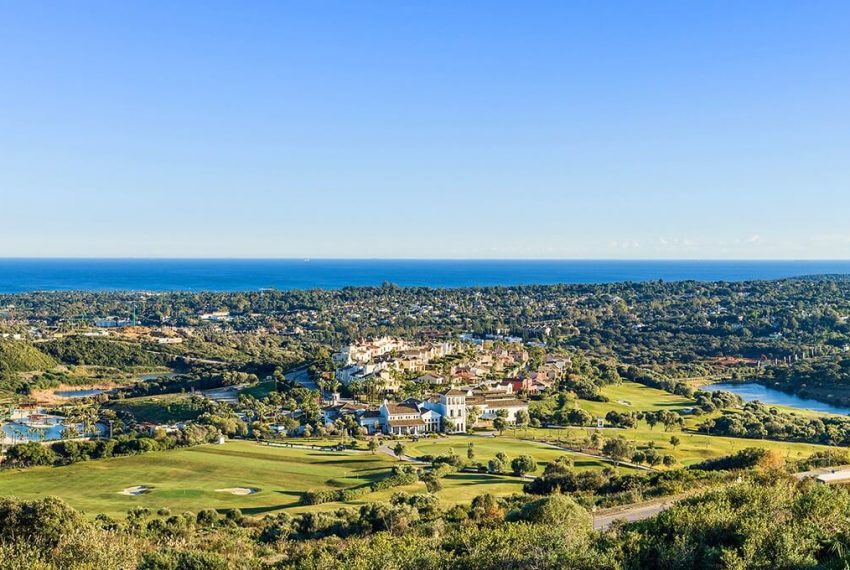 10 compelling reasons to buy in Sotogrande
At the far western end of the Costa del Sol, Sotogrande is a world apart from neighbouring Marbella. While both resorts attract ultra-high-net-worth property buyers and ooze style and sophistication, Marbella's glitz and glamour stand in the full glare of the paparazzi flashes. On the other hand, Sotogrande offers the same high-end lifestyle but at a much more discreet level.
In addition to this understated luxury, Sotogrande has a long list of other lifestyle desirables, making it a compelling case for a property purchase. And at any stage of your life because this resort truly caters for all demographics. So whether you're planning to buy a second home for family holidays, thinking of relocating to work from home or considering spending your retirement in the sun, Sotogrande is for you.

The lifestyle – second to none
Sotogrande boasts over 300 days of guaranteed sunshine a year, stunning surroundings that include majestic mountains, cork oak forests, rolling hills and a scenic coastline, and a privileged spot on the Mediterranean.
When taken together, these features make the perfect lifestyle. Alfresco for much of the year, and even when you're indoors, sweeping views of the ocean and Africa on the horizon come standard.
The safety – that all-important peace of mind
The entire resort of Sotogrande has 24-hour security services, and teams regularly patrol to ensure all is as it should be. In addition, several developments within Sotogrande are gated, providing extra peace of mind.

The privacy – staying under the radar
From the very first development on the site in 1962, Sotogrande has been all about keeping a low profile. It's the preferred destination for many of the world's rich and famous, royalty, nobility and celebrities alike. But all remain under the radar, far from the preying lenses of the paparazzi.
Even in high summer, Sotogrande's well-known residents and holidaymakers can enjoy peace and quiet without intrusion. That privacy is the resort's hallmark and one of the main reasons many people choose to buy in Sotogrande rather than elsewhere on the Costa del Sol.
The travel connections – easy and frequent
Getting easily to and from your home is a key consideration when buying property, particularly if you need to travel frequently. Sotogrande lies within easy reach of three international airports:
Gibraltar Airport – a half-hour drive from Sotogrande and with frequent services to the UK.
Jerez Airport – just over an hour away and with a wide range of flights to Germany, London, Vienna, Brussels and Amsterdam as well as excellent connections with other Spanish airports.
Malaga Airport – Spain's fourth busiest airport takes around an hour to reach from Sotogrande and has myriad flights to European cities all year round, including multiple daily services to London.
The schools – easy transition for families
Any relocation requires careful thought, not just for you but also for your children. And ensuring they receive the best education is paramount. At Sotogrande, you'll find some of the best schools in southern Spain.
They include Sotogrande International School, following the IB curriculum for children aged 3 to 18 and providing an elite sports programme. For younger family members, the International Montessori School caters for children from 5 months to 12.
There are also other prestigious international schools in nearby Estepona and Marbella.

The outdoor sports – world-class facilities
Sotogrande excels at the outdoor life, particularly when it comes to sports. Here's why.
 Top equestrian sports
Sotogrande has six polo fields at Santa Maria with regular tournaments, with some of the world's major competitions among them. Also on an equestrian theme, Sotogrande Hípica offers horse riding classes, dressage and treks in the countryside.
Prime watersports
Whether you're a sailing enthusiast, love deep-sea fishing, enjoy kite surfing the waves or simply messing around in the water, Sotogrande ticks all the water sports boxes. The resort has two marinas – mooring for private craft is available – and several beaches where you'll find kite and windsurf equipment hire.
If you prefer your water calmer, The Beach at La Reserva has over 2,800 square metres of private sands surrounding a peaceful lagoon. Water sports available here include stand-up paddle, kayaking and surfing on an electric board.
First for racquets
If tennis or paddle tennis is your thing, Sotogrande has two excellent tennis clubs where you'll find opportunities to learn, practise and play.

Best golf courses in Europe
Golf reigns supreme in this part of the Costa del Sol, home to no less than nine golf courses. Four are located in Sotogrande itself and they include Valderrama, the number one course in Europe and Real Club de Golf Sotogrande, ranked 7th.
 The new investments – cementing Sotogrande's prestige
Since its inception in 1962, Sotogrande has attracted the world's elite wealth. The latest arrivals include two of those at the top of their game:
Rockefeller resort
The uber-rich family is developing a luxury resort on 200 hectares next to La Reserva. The complex will include villas carrying the architectural signature of Archesa SPA, a luxury hotel and an 18-hole golf course. Henrik Stenson Golf Design is responsible for the course.
Messi hotel
One of the world's best-ever footballers, Lionel Messi, purchased a hotel in Sotogrande Marina in early 2022. MIM Sotogrande Club Marítimo opened its doors in April and offers boutique accommodation in its 43 rooms and suites.

The beach clubs – fine wining, dining and chilling
While Sotogrande's beach clubs might not be as well known as Ocean Club and Nikki Beach in Marbella, you'll find an excellent range of venues to spend the day on the sands. And, of course, with the added advantage of discretion and no cameras clicking as you sip your cocktail.
Options in Sotogrande include:
Chambao – on the beach at Torreguadiaro (to the east of Sotogrande Marina), this beach club brings a touch of Ibiza to the southern Mediterranean. Relax on the beach beds, dine al fresco and then enjoy live music from the evening DJs.
Trocadero Sotogrande – sitting on the seaside of the Real Club de Golf Sotogrande, this club has two pools with sweeping sea views as well as direct beach access. The restaurant offers lunch and dinner, and Trocadero's cocktail menu ranks as one of the best on the Costa del Sol.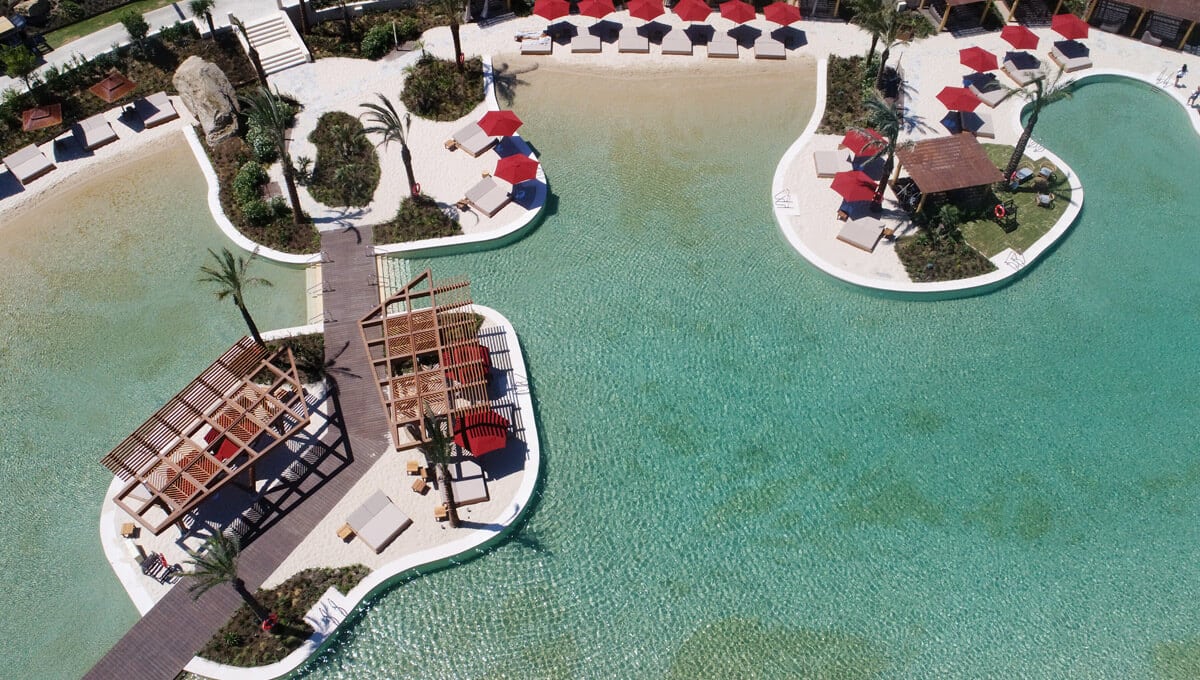 The Beach – located on the sandy lagoon at La Reserva, this inland beach club has loungers, Balinese beds and full waiter service. If you fancy a bit of exercise, water sports are available on the lagoon and there are kids activities too.
The best beaches – on your doorstep in Cadizfornia
Another advantage of buying property in Sotogrande is having some of Europe's finest beaches on your doorstep. Those on the coast at Sotogrande itself are among the quietest on the Costa del Sol, even in high summer.
And if you like miles of pristine sands and turquoise waters, you'll find them nearby at Tarifa. Of course, the most famous and beautiful are the beaches at Valdevaqueros and Bolonia, both backed by magnificent dunes, but those in Tarifa (Los Lances, for example) come a close second.
Venture slightly further up the Cadiz coast to discover yet more golden sands on the beaches at Zahara, Vejer and Conil. And you'll find out exactly why this part of southern Spain is known as Cadizfornia.
The easy visa – come and go as you please
Our final reason for buying in Sotogrande comes in the shape of the paperwork required if you want to make this gorgeous spot the permanent home for you and your family. But in complete contrast to the usual visa procedures for non-EEA nationals, this one is straightforward. Plus, it has minimal qualifying conditions.
Buying a home in Sotogrande for at least €500,000 entitles you and your dependents to an investment visa, more commonly known as the Golden Visa. This visa type provides the following benefits:
A residence permit for at least one year in Spain (two years if you make your visa application in Spain rather than abroad). You can renew this residence permit for five-year periods and apply for Spanish nationality after ten years.
No restrictions on travel in the Schengen area.
Permission to work in Spain, either as an employee or entrepreneur.
A residence permit for your family members, including your spouse or partner, children under 18 or financially dependent on you, and dependent parents.
No restrictions on how long you spend in Spain during the calendar year, although you must enter the country as least once during the year.
You are not necessarily liable for income tax in Spain despite having a residence permit.

Final thoughts – Sotogrande really does have it all
As our ten reasons have shown, Sotogrande offers something for everyone. From climate and scenery to things to do via facilities for all the family. In addition, this is a resort where you'll see but not be seen and enjoy tranquillity in a secure environment while making the most of an easy visa option.
We firmly believe that few places in the world bring together so many advantages and in such stunning surroundings. So, all that remains is to find a home to move you to Sotogrande. So, get in touch now and we'll do just that.