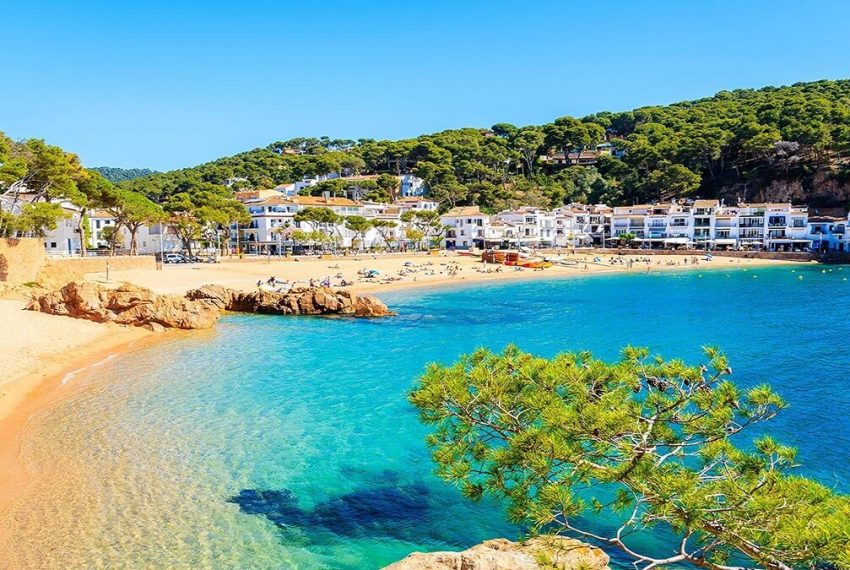 The new long-term real estate trends favouring Spain
A perennial favourite for property investment, Spain is currently riding a wave of economic good news despite the bigger picture of global uncertainty. Since the arrival of the pandemic, certain factors have come into play, all of which act to Spain's advantage. These features have affected all aspects of the economy and, as a result, they could lead to new long-term real estate trends favouring Spain. In this article, we examine those trends and discuss their effects on the property market.

The backdrop to Spain's economy now
Spain has for decades remained in the shadow of bigger, more powerful European players such as France and Germany. Despite multi-billion-euro injections from the EU since Spain joined in 1986, it has largely remained in the middle of the GDP per capita table within the EU.
2020 – a nadir for the Spanish economy
The pandemic hit the economy especially hard, mainly because of its huge reliance on tourism. For example, its share of Spain's GDP went from 12.4% in 2019 to a mere 5.5% in 2020. As a result, Spain saw its economy nosedive in 2020, with a drop of 11%.
2023 – a boom year for the Spanish economy
Fast forward two years and the tables turned. In 2022, Spain registered 5.5% GDP growth, in a year when inflation skyrocketed worldwide, and the Russian invasion of Ukraine shook the foundations of geopolitics. Spain also tamed its inflation to 8.3%, high yes, but considerably below other European countries.
In contrast, the powerhouses of Germany and France produced lacklustre statistics. For instance, France registered 2.6% GDP growth, while Germany managed just 1.8%. Both figures are less than half of Spain's.

Forecasts for 2023
Against a background of the continuing conflict in Ukraine and ever-rising interest rates, 2023 was never going to be a boom year for any country in Europe. However, as it did in 2021 and 2022, Spain is set to fare considerably better than its neighbours.
GDP forecasts for Spain
Most forecasters believe Spain's economy will stand out this year. For example, the European Commission (EC) expects GDP growth to reach 1.9% by December. The Q1 increase of 0.5% indicates that Spain is on track for 1.9%. For 2024, the EC forecasts growth of 2%.
GDP forecasts for France and Germany
GDP growth is expected to be negligible in France this year and the EC forecast points to a 0.7% increase. The figure doubles for 2023. In the case of Germany, the EC predicts just 0.4% growth this year, with 1.4% in 2024.
What does this mean for real estate trends?
Solid economic figures offer trust and confidence to investors, whether individuals or institutions. Spain's results add ballast to already strong arguments for buying property in Spain.
This was certainly the case in 2022, particularly in the multi-family sector. The Savills Southern Europe Investment report reveals that Spain, Italy and Portugal attracted record levels of property investment last year. The total €31.7 billion is 36% higher than 36%.
Furthermore, investment levels in the rest of Europe plummeted by 23%, while those in Spain soared by 39%. Savills explains the giant leap because of Spain's "comparatively strong economic landscape, solid property fundamentals and attractive pricing".

Renewables
Thanks to abundant sunshine and ocean winds, Spain has the upper edge on renewable energy sources. Since 2020, Spain has embraced wind turbines and solar panels to the extent that it expects to generate 50% of its electricity using renewables this year.
In mid-May, renewables provided all of Spain's electricity for nine hours, a new record in energy production. As a result, energy costs are lower, helping to keep inflation in check. The EC reported in May that Spain's rise in the cost of living is expected to further decelerate "mainly due to the moderation of energy prices".
"2023 will be an excellent year for the ecological transition in Spain," said Beatriz Corredor, President of Red Eléctrica (Spain's National Grid). "And a transcendental year for Spain to consolidate its position as the driver of renewables in the EU."
What does this mean for real estate trends?
Cheaper and sustainable electricity obviously appeals to homeowners and, in our experience, buyers are often pleasantly surprised at the affordable energy bills in Spain. In turn, it ticks the sustainability box when climate change is at the top of political agendas.
In the medium term, Spain's emergence as a renewable powerhouse will add weight to its economic balance sheet. The result? Greater interest in investment in Spain, including its property sector.

Tourism back on record ground
Spain consistently ranks as the world's second-most visited country, behind France. Consequently, the economy relies heavily on tourism. After an unusually quiet hiatus in 2020 and 2021, 2022 showed signs of recovery. The country welcomed 71.6 million visitors, 14% less than in 2019.
2023 figures for Spain
This year has emerged as one when tourism will return to record ground. In Q1, 13.7 million foreign visitors chose Spain for their holiday, just 3.5% below the same period in 2019. The figure is also 41.2% higher than in 2022.
Tourism spending also soared and now ranks ahead of 2019 levels. International tourists spent €17.201 million in the first three months of this year, 11.9% more than in Q1 2019.
2023 figures for the Costa del Sol
The southern coast of Spain stands out as one of the stellar destinations this year and, unlike tourism in Spain as a whole, visitor figures on the Costa del Sol are now higher than the pre-pandemic.
In Q1, Malaga Airport welcomed almost 1.5 million visitors. The figure translates to an increase of 25% on 2022 and, more significantly, a 9% increase on 2019. On the back of these bullish figures, airlines serving the Costa del Sol have released over 5 million seats for the summer, over 550,000 more than summer 2019.
What does this mean for real estate trends?
Buoyant tourism is always good news for the property sector. On the one hand, holidaymakers may become home buyers – residential tourism is a pillar of the local economy on the Costa del Sol, for example. And on the other hand, buy-to-let investors who choose the holiday let option can expect consistent yields.

Price of property
In 2022, the Spanish real estate market experienced its busiest since 2007, with brisk sales across the country. However, prices remained contained, and the market avoided a bubble scenario.
In 2023, rising interest rates have taken their toll on transactions. According to the Registrars' Association, sales fell by 2% in the year to Q1, although the 161,024 total transactions between January and March were 7.2% higher than in Q4 2022.
In Q1, prices rose by 5.43% in the year to reach an average of €1,873 per square metre. The figure is now on a par with the highest ever (2007) and 59.48% above the lowest (2014).
Foreign interest remains high
Despite a context of economic uncertainty, the percentage of foreign buyers remains high. In Q1, they represented 14.52% of the market, very slightly below their share in Q4 2022 but still the fourth-highest percentage on record.
What does this mean for real estate trends?
The comparatively low price of Spanish property and a market with steady trends are music to investors' ears. And as the figures for Q1 show, even in times of economic and geopolitical uncertainty. In addition, prices are forecast to remain stable this year, a factor adding to the appeal of Spanish real estate.

The obstacles in the road ahead
Despite its emergence as an economic powerhouse and outstanding performer in the Euro Zone, Spain does have clouds on the horizon. They include:
Inflation – the underlying rise in the cost of living remains high and, as a result, core inflation could, as the EC says, "remain elevated over the forecast horizon". However, Spain's forecast inflation is 4% for this year and just 2.7% for 2023.
Rising interest rates – the European Central Bank remains hawkish on interest rates, meaning higher mortgage payments for homeowners. However, in an investment context, rates remain competitive at least for this year.
However, both factors are short-term blips on the road ahead. They're also common to all countries in the EU and further abroad, such as the UK and the US.
Furthermore, as this article has shown, Spain is expected to have the upper edge in terms of GDP growth and tourism this year. As a result, we believe that within the challenging economic scenario worldwide, Spain presents an exceptional opportunity for real estate investment.
Get in touch to start the search to find you property on the Costa del Sol.
Research sources
Tourism GDP https://es.statista.com/estadisticas/1082929/sector-turistico-porcentaje-del-pib-aportado-espana/
GDP 2020 https://ec.europa.eu/economy_finance/forecasts/2021/winter/ecfin_forecast_winter_2021_es_en.pdf
Spain EC forecast https://economy-finance.ec.europa.eu/economic-surveillance-eu-economies/spain/economic-forecast-spain_en
French GDP https://www.reuters.com/markets/europe/french-economy-eked-out-01-growth-q4-above-forecasts-preliminary-gdp-2023-01-31/
Germany https://economy-finance.ec.europa.eu/economic-surveillance-eu-economies/germany/economic-forecast-germany_en
Savills https://www.savills.com/research_articles/255800/340248-0
Electricity https://elpais.com/economia/2023-03-23/espana-alcanzara-este-ano-el-50-de-generacion-renovable-segun-red-electrica.html
https://www.worldenergytrade.com/energias-alternativas/electricidad/espana-energias-renovables-horas-seguidas-18748
Tourism https://www.rtve.es/noticias/20230504/espana-recibio-137-millones-turistas-primer-trimestre-menos-turistas-2019-pero-gasto-superior/2443531.shtml#:~:text=Espa%C3%B1a%20recibi%C3%B3%20en%20el%20primer,9%25%20el%20realizado%20en%202019.
https://www.lamoncloa.gob.es/serviciosdeprensa/notasprensa/industria/Paginas/2023/040523-turismo-visitas-internacionales.aspx