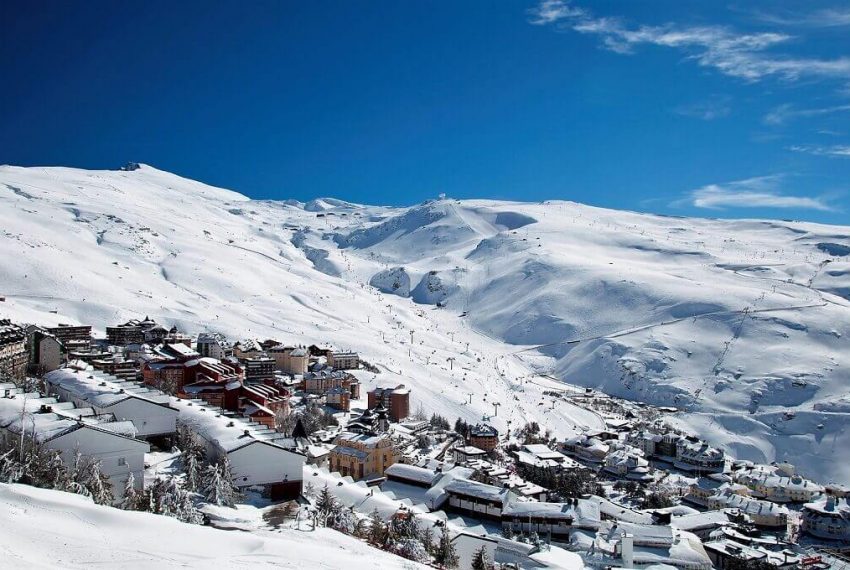 Sierra Nevada Ski Resort | The Slopes of the Costa del Sol
It might be a stretch to say that the Sierra Nevada Ski Resort is part of the Costa del Sol; however, it is only a three hour drive from Sotogrande – so it's a close enough neighbour.
One can gaze at the snow heaven Sierra Nevada mountain range from Granada City along with its Sierra Nevada Ski Resort. The resort was founded in 1964, 2,100 meters above sea level.  The mountain range is considered to be one of the highest in Europe which guarantees a certain amount of snow fall each year. The season usually starts in November lasting all the way through until May.
Sierra Nevada Ski Resort boasts 128 pistes, but it is also recognized for its off-piste skiing. It attracts Skiers of all levels, from complete beginners right through to seasoned pros. The resort is extremely popular among snowboarders, with top quality equipment available for rent at very competitive prices.
Sierra Nevada Ski Resort offers many spectacular experiences, with night skiing being one of the most trilling. Specially illuminated slopes light up the mountain range and sparkle against the night sky making for a very unique skiing adventure.
Sierra Nevada Ski Resort is extremely family friendly. The Resort provides a range of activities for kids, including beginners lessons along the baby slopes. A mix of Ski schools cater for all levels of experience and provide top quality courses run by experienced instructors. Accommodation and ski courses can all be booked in advance via the many websites you'll find online.
If you are not much into skiing, there's a whole other range of fun activities to do. You can try mountain climbing and hiking, there are snow machines to take you to the peak of La Valeta where one can watch the sunrise from the White Mountain, a breath-taking experience. Not many would associate skiing with Southern Spain or the Costa del Sol, but Sierra Nevada is a hugely popular Ski Resort and offers a good foil to lazy days spent on the beach.