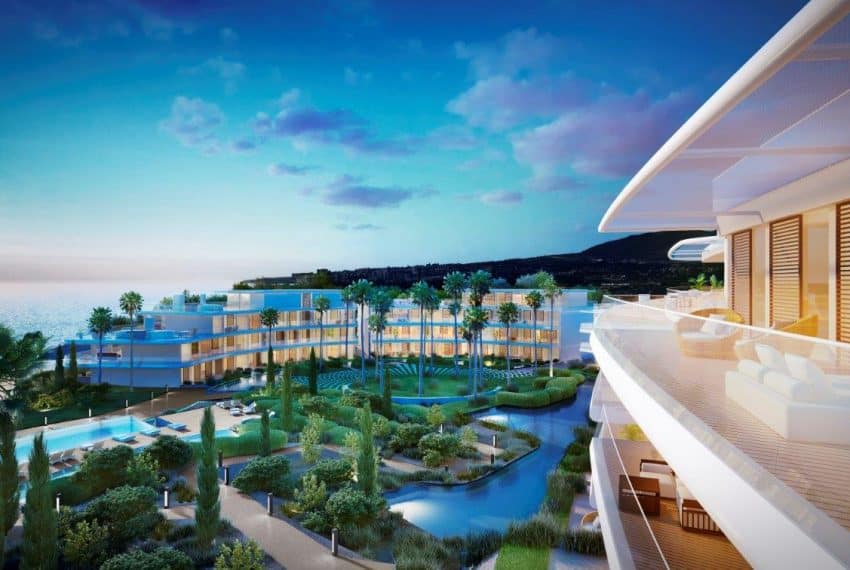 Living in Luxury at the Edge Estepona
The Edge Estepona is a spectacular frontline beach development designed by the renowned architect Rafael de la Hoz, internationally awarded for the innovation and sustainability of his projects.
The Edge Estepona
The embodiment of exclusivity on the Costa del Sol. The Edge Estepona boasts an outstanding design that is the embodiment of a wave's movements; its balustrades, terraces, and awnings make us wonder whether we are really in a building or a boat beached on the shore. Following the belief that architecture has a direct impact on people lives, The Edge is designed to remind us, at every moment, that we are living directly in front of the ocean.
This high-end development is composed of a small number of ultra-contemporary designed apartments, penthouses, and two unique villas, spread out in a 9.000 sqm plot. Large floor-to-ceiling windows welcome the Mediterranean light, the sea, the beach, and the horizon. These spacious homes are built to luxurious standards, with very high-end materials and finishing. The residents will be able to enjoy stunning landscaping, three infinity swimming pools, a Health Club to promote comfort and a healthy lifestyle, paddle tennis courts and direct beach access while living securely in a 24hr gated community.
And these are the qualities that make The Edge a unique place and ultimately the embodiment of luxury on the Costa Del Sol.
For more information about these stunning homes, contact me.