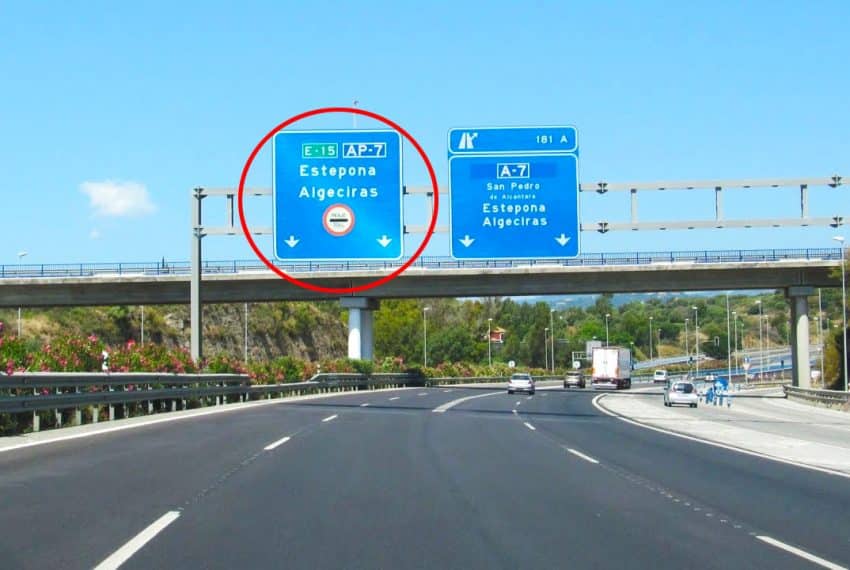 8 Compelling Reasons to Scrap the AP7 Costa del Sol Toll Road Fees
Those familiar with the western Costa del Sol will know that although the highway network is good, it's also unequal. As soon as you pass Benalmádena in the east or Sotogrande in the west, the roads divide into the A7 and the AP7. One is slow, dangerous and free. The other is fast, safe and expensive.
At The Property Agent we believe that it's time that this inequality came to an end. Time that drivers can take the fast route without paying through the nose. And time that residential areas on the coastal A7 saw an end to a constant stream of traffic including long-haul freight trucks, noise and pollution.
There are many benefits to getting rid of the AP7 toll fee, so many in fact that for residents and holidaymakers on the Costa del Sol it's a no brainer. But Spain's central government appears so oblivious to these reasons that we thought it would be worth reiterating why the toll fee should be scrapped.
#1 – It's a rip off
This is obviously the biggest no-brainer of them all, but it's worth repeating. Many people aren't aware just how much the toll fees are on the AP7
The toll motorway in Malaga province runs for 82.7km between Benalmádena and Guadiaro. In off-peak season, a return trip along the entire length costs €20 for a car. This cost rises to a massive €32.50 in peak season, which isn't just for a few weeks a year. High season for the AP7 encompasses Easter and a full four (yes, four) months between June and September. The peak season AP7 toll rate translates to the most expensive toll per km in Spain.
It's true that discounts are available, but to benefit from them you have to be a frequent user. For example, if you drive on the AP7 at least 60 times in 4 months, you're entitled to the same price toll fee regardless of the time of year. And if you use it frequently on a monthly basis, you get between 5% and 50% off toll fees.
Did you know? Even if you used the AP7 36 times in a month, you would still pay €10 for the return trip.
#2 – We'd all save
A free AP7 would automatically save time and money for everyone on the Costa del Sol.
More time: Commuters could use the AP7 and arrive more quickly at their destination – no need to delay the start of a meeting because the attendees are in a traffic jam at Puerto Banús. Tourists too could be enjoying their precious holiday time sooner if they took the AP7.
More money: commuters and visitors would make huge savings if the AP7 was free. The actual estimates run to millions of euros. The AP7 between Alicante and Tarragona became free in January 2020 and a year later, users have saved €300 million.
In the current crisis when so many businesses are struggling to make ends meet, every little bit helps. And being able to drive more quickly and for free to a location will make all the difference to so many people.
Bottom line? Money saved on toll fees would be spent on goods and services helping local businesses.
#3 – Driving would be safer
As the Autopista del Sol website says, the AP7 is "safe" and anyone who uses the toll motorway would agree.
You encounter very little traffic.
There are hardly any entry-exit slip roads and no roundabouts.
All entry lanes have plenty of visibility and room to manoeuvre.
On the coastal A7, the exact opposite is true. It carries between five to ten times more traffic – jams are commonplace and daily. And hardly a day goes by without at least one accident on it.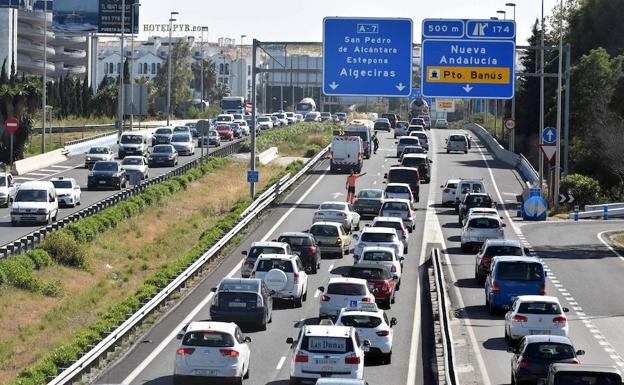 The A7 also comes packed with entry and exit slip roads, particularly in Mijas Costa and between San Pedro de Alcántara and Estepona. Most entry lanes have no run-up so that vehicles pull onto the highway from standing. The result? Cars already on the highway often have to break sharply to avoid a crash.
The A7 has plenty of roundabouts too in the section between Estepona and Guadiaro. While these are a safer option than slip roads, they slow your journey down. Plus they create more noise and pollution as freight trucks slow down and rev up on them.
Did you know? The first stretch of the AP7 motorway in Malaga was completed in 1999 with the second stretch between Estepona and Guadiaro finished in 2003.
#4 – It would reduce air and noise pollution for residents
The coastal A7 often runs through built-up residential areas. They include Sabinillas, Manilva Costa, Puerto Banús, Mijas Costa and Fuengirola. The huge volumes of traffic on a daily basis (with at least double the amount at Easter and during July and August) produce high levels of air and noise pollution. If this traffic, particularly long-haul freight trucks, was diverted to the AP7, residents would breathe cleaner air and enjoy quieter surroundings.
Bottom line? Many resorts would see their quality of life improve considerably if there was local traffic only on the A7.
#5 – Most of the AP7 is toll-free already
The AP7 runs for a total of 948.3km between Cadiz in the south and the French border, north of Barcelona. To date, only 318.7km is still toll motorway. Nearly 26% of the toll stretch is on the Costa del Sol.
Did you know? On the Costa Blanca, Alicante bypass is part of the AP7 toll stretch. The highest toll fees are €1.85 and it's free between midnight and 6am.
#6 – Other toll fees in Spain have been scrapped
The first toll to be abolished on a highway in Spain was in 2018 on the AP1. The AP4 between Cadiz and Seville and the AP7 between Alicante and Tarragona followed suit in 2020.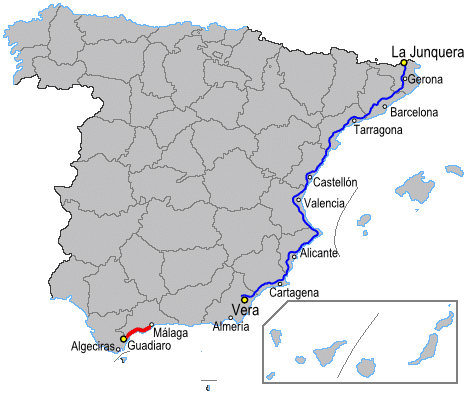 Next on the list for this year in August and September are the AP2 between Vendrell and Zaragoza and the AP7 from Tarragona to La Jonquera.
Bottom line? By October this year, there will be only three stretches of the AP7 with a toll: the Costa del Sol, Alicante bypass and Crevillente to Vera in Almeria.
#7 – Access to the airport would be quicker
And safer too. All users for the airport would benefit from knowing that the journey time is unlikely to vary much or be held up by traffic jams and/or accidents. Taxis and VTC licence holders would also be able to offer a better service.
The majority of the A7 coastal dual carriage way is restricted to 80km/h – 100km/h speed limits. While you can travel at 120km/h speed for most of the length of the AP7 motorway.
Did you know? The journey time from Puerto de la Duquesa to Malaga Airport takes 55 minutes by the AP7. If there's little traffic (and that's usually a big if), it takes 70 minutes via the A7.
#8 – The time is now
All drivers on the AP7 will have noticed how little traffic uses it. This is particularly true for the section between Marbella and Benalmádena, the most expensive stretch. It's hard to believe that the concession has been viable over the last 20-odd years. We suspect it probably hasn't.
However, despite the lack of viability and obvious need to scrap the toll, the government shows no sign of including the AP7 on the Costa del Sol in its toll-free motorway plan.
Did you know? The current concession owned by Ausol does not expire until 2054.
What next?
After reading our eight compelling reasons why the AP7 toll should be abolished on the Costa del Sol, we imagine you're feeling pretty indignant. We know we are and believe that this is a common sentiment among all of us who live on the Costa del Sol or come here for holidays.
If you share this feeling, then please join us in our bid to persuade the Spanish government to rethink their refusal to scrap the AP7 toll. We're starting a petition and plan to collect 100,000 signatures to present to the authorities as definitive proof of local sentiment.
All you have to do is click here to access the online petition and add your name and email address. We'd also ask you to share and re-share this post so that we reach as many people as possible. The more signatures the better and the sooner we will all be able to enjoy a toll-free existence on the Costa del Sol.
And please do it now because believe us, we cannot wait until 2054!