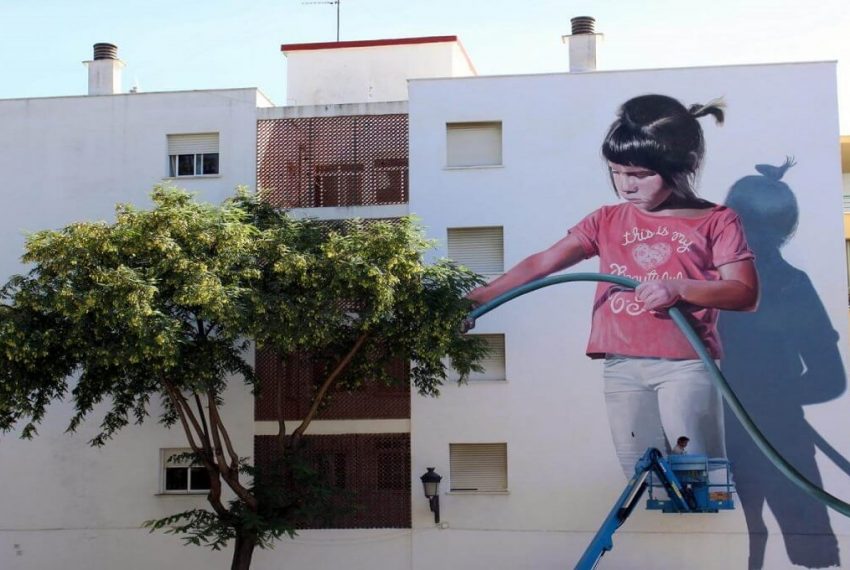 Estepona – A city of flowers, art & poetry
Estepona still has the charm of a quaint Andalusian fishing village with narrow cobbled streets, quiet squares with pretty fountains, little white houses with flowerpots hanging from their facades and original murals and sculptures to be found throughout the city, giving artists free rein to fill up urban canvases.
The historic centre, amongst one of the most beautiful in Andalusia, is a network of charming pedestrian streets embellished with thousands of plant pots and hanging baskets full of multicolored flowers inviting discovery.
There are over 5 hectares of urban gardens in this unique enclave on the coast, turning this explosion of colors into a symbol of identity and giving Estepona the nickname "The Garden of the Costa del Sol."
But not all of Estepona's colors come from flowers. The facades of the buildings have been decorated with spectacular murals turning the streets of Estepona into a magnificent open-air museum with about fifty artistic murals, sculptures and decorative poems that pay tribute to its seafaring and agricultural traditions.
Whilst following the Route of Artistic Murals one may find absolutely amazing artworks such as "Water", the first mural in braille system or "The Day of Fishing" which bears the title of being the largest mural in Spain, spreading over no less than 6 parallel facades!
On the route of poetry there are wonderful poems written by great poets such as Antonio Machado, William Shakespeare and Luis del Olmo amongst many others.
It is thanks to this artistic commitment that living and walking through Estepona is a new way to enjoy art.
New developments in Estepona
Developers have not been slow to notice the growing embellishment of the town and its surroundings. There are several new property projects in Estepona currently under construction, such as Darya by the Beach, Sunset Plazamar, or Residential Infinity that take advantage of this attractive area.
If you're looking for a holiday home or permanent residence in or near Estepona town, there is a great choice for you. Contact me and I will be delighted to help you find your new home in Spain.